Nov 13th 2014 10:43:07 am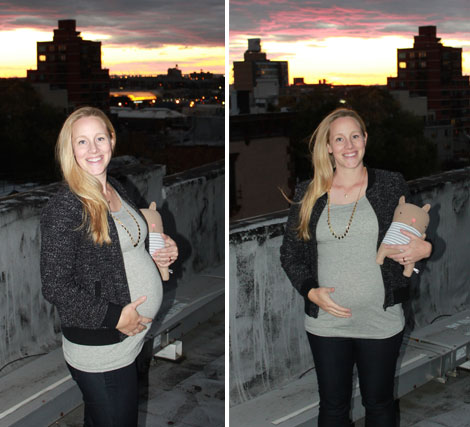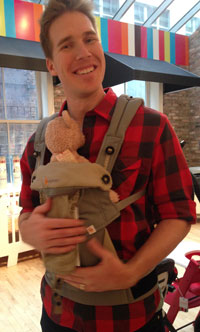 Monday, October 27th – Here we go into the third trimester! I can't believe it is really here. I know the next twelve weeks will go very fast… so I have been pretty adamant about getting everything ready for baby asap. Yesterday, Travis and I went into the city and ordered the crib and all of its accessories. It will arrive in mid November. A little early, but I don't want to take any chances. I'll just feel more calm if the apartment is totally ready to go well before January gets here. (Travis also tested out a baby carrier. He looked good in it!)
Since I had on make-up and actual street clothes, we tried to do a little third trimester photo shoot on the roof. There was a nice sunset, but we sort of missed it. I always look so unnatural in these posed shots and I know they are decidedly self-centered and a bit obnoxious, but I like keeping this record of my pregnancy. I know some women hire pro photographers for maternity photos, but I think I am ok with these DIY shots. I'll save the fancy, frame-able, masterpiece photos for after the baby arrives. I mean, it's not like I am going to display a maternity photo of myself in my house when I have the option of a baby photo instead, right??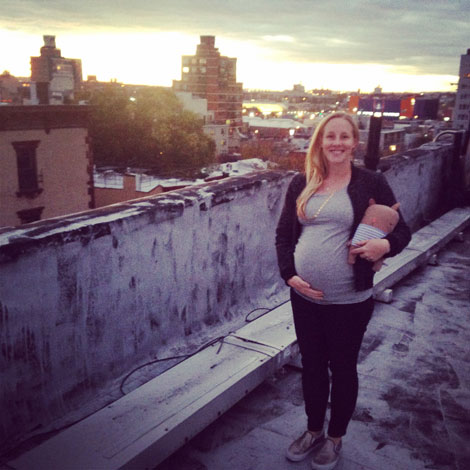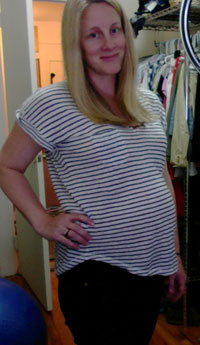 Tuesday, October 28th – I have been feeling emotional — in a good way — lately. I'm really in love with Travis and Crusher and I am enjoying spending a lot of time with them. I've also been thinking that this pregnancy thing is pretty fun. Amazing since I am also huge and a little uncomfortable. My appetite may finally be tapering off a bit. There just isn't a lot of room for food. I have been craving juice, though! Lots of juice.
Saturday, November 1st – Today I am 29 weeks pregnant — already a week into the third trimester! I am sort of telling myself I only have two months left to go because I want to be ready for anything once January gets here. I guess I am also getting a little antsy and excited for BabyJ's arrival. I better finish reading all of my baby & birthing books!
Today, I ran a 5k race in Manhattan. It was a fun run in conjunction with the NYC Marathon, which is tomorrow. We got to run through midtown and to the official marathon finish line. It was really fun to get to be a part of the atmosphere among all of the international runners. I can even say that I ran (shuffle jogged) almost the entire race! I was feeling pumped up and wanted to see if I had any running left in me after a fairly solid hiatus. It felt great on my legs… but pretty punishing on my bladder. And, oh man, my pelvic floor muscles are SORE now! Really tired and sore. I was not expecting it. Oof. I hope it will strengthen them. Despite the pounding on my bladder, I didn't realize my pelvic floor was getting that much of a workout. I guess it is a tiny preview of my post-labor recovery…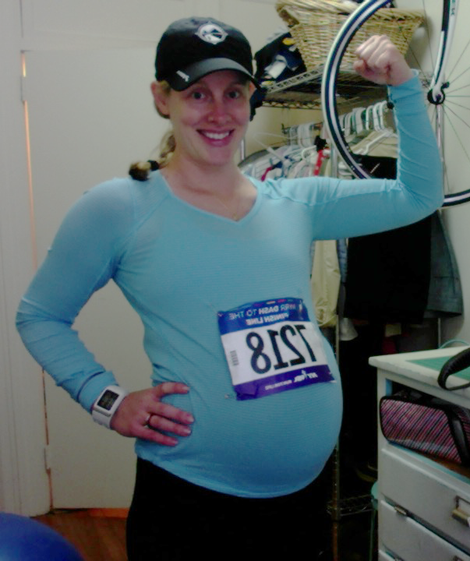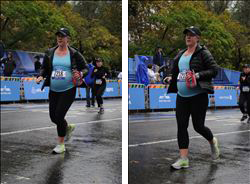 I must admit that I think I was more motivated to run a lot of the race today after reading this article in the NY Times about elite runners training through pregnancies. Lots of friends had pointed it out to me, and even though it is inspiring, it also made me feel like a lazy slacker. Those women are running 50+ miles a week while pregnant! I don't run that much when NOT pregnant. And running now is quite uncomfortable and hard. BUT, this extra interview made me feel better. When it comes to pregnancy exercise, it really all depends on what your body is used to. Some people think I've been exercising too much, but I feel guilty because I feel like I have cut back immensely. For the elites, 50 miles per weeks is a big cut back in their training routine, too. All women have to cut back on some exercise intensity while pregnant, we just all start from different places. And elites are elites because their bodies are exceptionally good at exercise… each woman just has to do what feels good to them. And for me, I think it will mean very little running until 2015!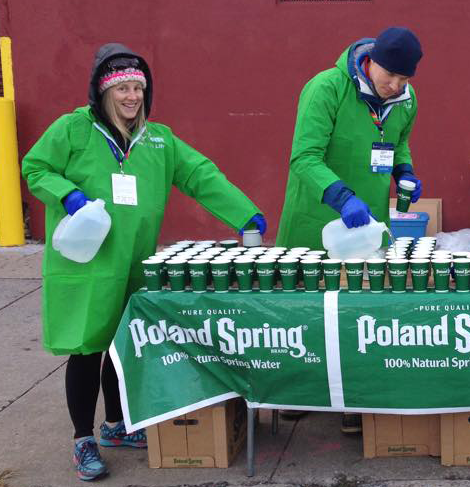 Monday, November 3rd – Yesterday, Travis and I volunteered at a water station for the NYC Marathon. It was a fun and exciting day, like always, but six hours on my feet pouring water in the wind and sun ended up being tougher than I expected. I was basically fine during our shift and pumped up to be helping the runners, but afterward I was entirely exhausted and sore. My back was in pain. All of the volunteers were tired, so I don't feel too bad about myself. But I just can't pull all-day work shifts in my current condition. It took a nap, an evening on the couch, and 10 hours of sleep to recover!
Today was another doctor's appointment. Everything — weight, belly size, blood pressure, fetal heartbeat — is still looking really good. I got to meet with another doctor at the NYU Langone practice for a few minutes and she was very friendly. I also got my whooping cough vaccine. So, all good. I go in for appointments every two weeks from here on out. BabyJ's birthday is getting close!!
Wednesday, November 5th – Travis and I attended our first "Prepared Childbirth" class at the hospital last night. It was really good. It helped reinforce the fact that I will be delivering at an excellent, baby-friendly hospital. And it reassured me that I am in agreement with the hospital policies. It is easy to start getting nervous as I read all of the hospital horror stories in the home birth books, but I believe NYU Langone Medical Center will be a perfect place for our birth.
Travis and I learned a lot about early and active labor in this first class. I am glad that he got to hear so much of the info that I have been reading lately. I try to tell him the important bits, but I feel like he takes it more seriously when coming from an instructor. We learned about pain coping and breathing techniques and we practiced working through a few contractions. I was pleased when the instructor said that sitting on an exercise/birth ball is one of the best ways to prepare for labor. I am glad I already have one! She also said the most important thing to do to prep is relax. I am really working on that! I do feel more calm about the labor and delivery. I have a good feeling that it will go smoothly…
Thursday, November 13th – I am a little late publishing this update for my 30 week milestone on Saturday… Over the long weekend I traveled home to Kansas City to celebrate my mom's 60th birthday and to visit my grandma and aunts in Paducah, Kentucky. I was a little worried about traveling while 7 months pregnant but the flights were really no problem. I wore compression fitness tights on the plane ride there (at the suggestion of my doctor), but didn't notice any swelling or bloating. I wore my jeans on the flights back and was also fine. I didn't even have to use the bathroom on the planes. Nice! I basically had zero offers from anyone to help carry or lift my bags, which seems a little odd, but I managed pretty easily on my own. The day after I arrived, Mom and I drove 9 hours to Kentucky, then we attended a film festival for two days. The sitting for days on end was the hardest part of the trip. I should have been more diligent about fitting in exercise. But it was wonderful to visit with my grandma and aunts and hear their advice and thoughts on pregnancy and birth. I am very glad I went!
I think BabyJ is a little less than 4 pounds now. My app says he is the size of a large cantaloupe and he could gain up to 5 more pounds before delivery. I hope to gain less than 10 pounds overall by then, but we'll see… my belly is getting huge. Somedays it is comfortable enough, but then other days he is moving all around and pushing out on my abs. Those days are uncomfortable. Exercise seems to help him get into a more settled position. I am trying to commit to staying as active as possible for these last two months. It is really tough, but it is daunting to think about taking another six weeks off from strenuous activity after the birth, too. If I were to take off from now until then, it would be four months of inactivity!! I feel like I am turning into sludge… but I am also trying to be forgiving and relaxed about the situation. Fitness and muscle tone are not the most important things right now… right? I should embrace the time to take it easy. I will try.
2 Comments » Categories: Pregnancy