Dec 6th 2014 01:18:43 pm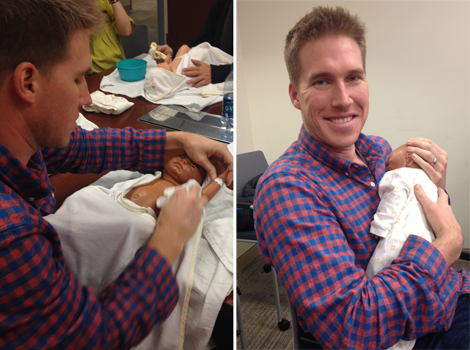 Wednesday, November 26th – Yesterday was our fourth Prepared Childbirth class at the hospital. We learned about postpartum care at home for both mom and baby. Travis practiced swaddling, holding, diapering, and bathing a baby doll. He was pretty good at it.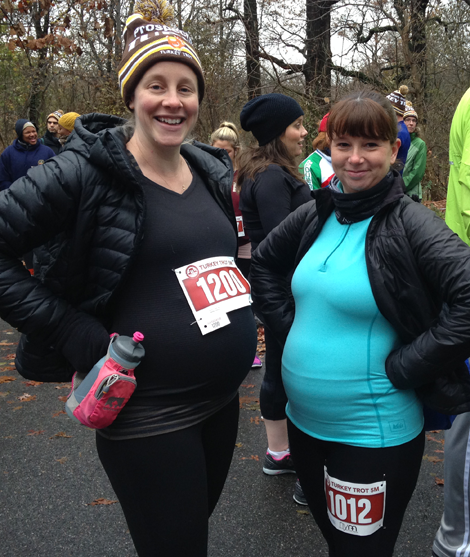 Thursday, November 27th – Happy Thanksgiving! This morning I walked a five mile Turkey Trot with my pregnant partner, Suzy. It was a long way! Now my pelvic floor is sore. My hips are so loose and wonky lately. My entire pelvic area is sore after walking too much, but also after standing up from sitting on my exercise ball and while sleeping on my side. I guess everything is loosening up for labor.
I was sad to not be hosting Thanksgiving dinner this year, but it was probably for the best. We went over to our friend, Joel's, house to eat with friends and his family. It was absolutely lovely, but I was pretty exhausted and bloated by the end of the night. I am very thankful to have a healthy baby growing and moving inside and a great husband (and dog) to support me in this challenge.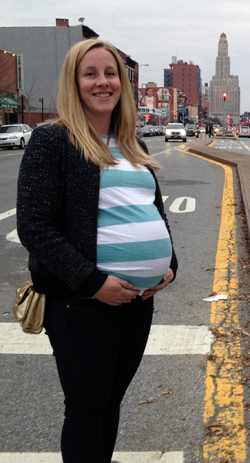 Sunday, November 30th – Yesterday marked week 33 of this pregnancy. We mostly rested for the whole long weekend, but today we went into the city to do some Christmas shopping. I held up ok, but I feel huge. And unfashionable. I feel some desire to buy new maternity fashions, but my more practical side wins out. I don't want to spend money on stuff I'll only wear for the next few weeks. Even though much of my maternity stuff already feels too small. I hate this unflattering belly pic of myself (trying to capture a Brooklyn scene), but it is all we've got for 33 weeks, so I'll live with it. I could keep complaining about how huge I feel and how scared I am about my weight, but I'll spare you. I've almost reached the point where I want to just give up and stop thinking about my body all together.
Wednesday, December 3rd – Getting some real work done today! Hooray! Suzy and I went to pre-natal yoga on Monday night, which was good, but then that night Travis came down with a bad case of food poisoning. We didn't sleep much that night. (And we missed our final Prepared Childbirth class. Boo.) Tuesday was spent trying to get him feeling better and hoping that he didn't actually have the flu or something else terrible which I could catch. He didn't. He is feeling better today and I am feeling more productive and energetic thanks to better sleep last night. Whew.
Saturday, December 6th – Today I am 34 weeks pregnant and I am feeling well, but also overwhelmed. Yesterday I had a pre-natal doctor appointment AND the "virtual tour" at the hospital.
The doctor appointment didn't go so well. The doctor was an hour and a half late, which I was actually ok with. She was another new doctor for me to meet and she was really nice and cool, and I was thinking that I wished she was my primary doctor until I brought up my concern about my weight gain. I shouldn't have done it, but my weight was REALLY high at the appointment. I think it had to have just been a strange fluctuation because it wasn't registering high at home and had been really consistent for the last week… but anyway, it indicated that I had gained too much weight according to their charts in the last two weeks. Ugh. My doctor told me to basically cut out ALL CARBS. She recommended a low-carb, low-fat, high-protein diet for the rest of the pregnancy. She wants me to cut out all grains, fruit, and even carrots! Which sounds insane to me. Foods she actually suggested that I eat for lunch were a chicken breast, no-fat cottage cheese, and diet Snapple. Not only does that sound completely unappealing, but I also think it sounds unhealthy. And when I asked her about missing out on all the fiber from fruit and whole grain, she said to just take a stool softener! I am not SO concerned with my weight that I am willing to mess up my digestion with a crazy, unnatural diet and then fix the issues it causes with medication. There is just no way I am going to start eating weird processed diet foods and artificial sweetners (which I have avoided all pregnancy). BUT, I AM definitely doubling down on my efforts to moderate my weight gain by reducing processed carbs and sugar and increasing protein.
The entire interaction made me feel overwhelmed and confused. I guess, what do I expect the doctors to tell me about my diet? I mean, no one should be eating treats and sugars. But hearing a doctor tell you to do something completely against your idea of healthy, normal eating is confusing. I want to be the perfect pregnant patient, but it is hard when you don't agree with the medical professionals. It stresses me out. AND I feel frustrated because I really have been watching what I eat and feel like I have been quite healthy. All I want is juice and donuts and I have tried hard not to give in to my cravings. I am so mad that my weight had to be so high at the appointment. Blergh.
The virtual hospital tour was ok. It was basically just a big meeting with power point slides. We had heard a lot of the info at our Prepared Childbirth class, but a new tidbit I learned is that NYU Langone Medical Center delivers more than 6,000 babies a year. Wow! There is still a lot of registration, insurance, and birth plan paper work to fill out, which makes me feel a little stressed… but I am sure we will get it all together somehow.
In other news, BabyJ is getting really big. His movements are much more Alien-like now, pushing my belly all around and almost painful at times. I am also having a lot more pelvic pressure. This whole pregnancy thing is definitely progressing!!
We ordered BabyJ's car seat today. We did NOT get a combo stroller/car seat travel system. We'll see if we regret it. Travis also ordered a baby monitor last week. We can view the video feed on our phones. Right now we have it set up in the living room (seen below) to spy on Crusher, which is pretty fun. We only have a few small things to order — a nice thermometer, baby clothing hangers, post-partum supplies — and then I think we will be pretty ready… in the "stuff" sense. It is kind of impossible to be ready in the mental sense. It is just impossible to know how the labor will go and what it will really be like to bring home a new human. It feels scary, but we are excited.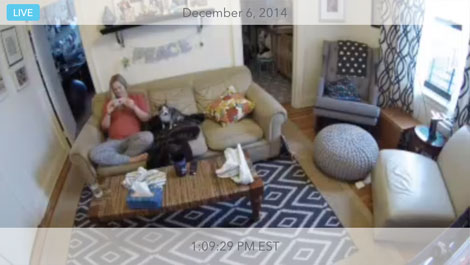 2 Comments » Categories: Pregnancy