Sep 15th 2014 01:09:23 pm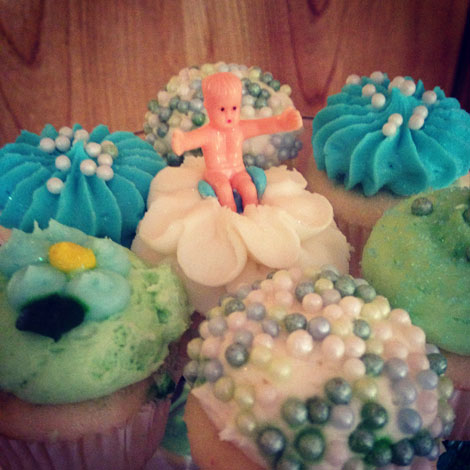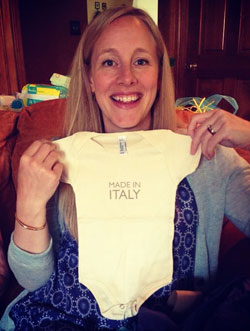 Sunday, August 31st – My sweet mom and her super-kind and generous neighbor (and friend!), Sarah, hosted a surprise baby shower for me today. It was a lot of fun with all of Travis' family in attendance. I wasn't expecting a shower, so it really made me feel loved. Sarah decorated in cute baby boy style and made all sorts of awesome food and treats. She had chocolate dipped pretzels and Oreos, and fruit kabobs in a watermelon carved into a baby carriage! Very impressive! We even played a baby shower game and guessed the prices of baby essentials. I did not win. I think I was guessing NYC prices! I received so many adorable outfits (like this very accurate "Made in Italy" onesie from Dad) and goodies for BabyJ! I think he is now basically set for the first few months clothes-wise. What a lucky baby! I am not sure how we are going to fit all of his gear in the apartment… we need to start clearing out some space!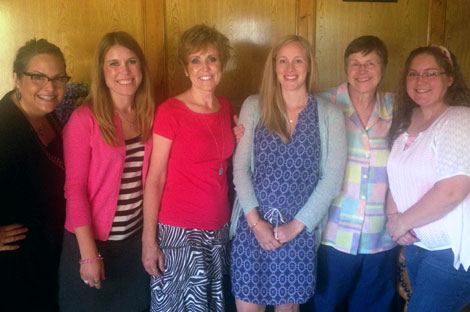 Friday, September 5th – This week went by quickly! I spent most of it in Kansas City spending time with family. There is never enough time to visit with everyone sufficiently and I feel really weird about maybe not seeing everyone again until after the baby arrives. I'm afraid they won't ever know me as an individual again! Or, everyone will only focus on the baby from here on out and forget about me. Sniff. Oh well, I am pretty focused on the baby, too.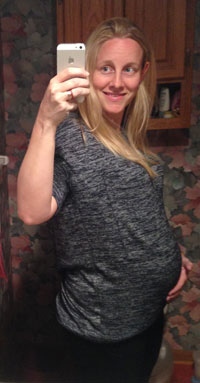 I am really having fun being pregnant. That being said, I had a bout of body image panic when my mom and I were shopping for maternity clothes on Wednesday. It is just scary to be getting so large. But my mama bought me some comfy clothes from Gap Maternity and I am feeling better. I know that gaining the correct amount of weight is optimal and I don't want to skimp on any nutrients, but it still seems daunting to have to lose it all later… when I'll have a lot less free time. Oof. The good news is that the travel to and from KC was no problem. I felt fine and had no trouble with the flights. I just made sure I had my water bottle with me, and stopped in the bathroom any chance I got. The other REALLY good news is that I can really feel BabyJ moving around now! Travis can even feel some movements from the outside. So fun!
Saturday, September 6th – Today I am officially 21 weeks pregnant! More than half way done. Wow. I attempted to run a 4-mile race in Central Park today, but it turned into a walk. And then I experienced a really fast heartbeat and got really light headed. I had to stop and sit down. It was scary. I finished the race (I need it for my NYC Marathon 9+1), but it was very slow going. I've been getting light headed easily these days, like when I stand up too quickly. They say it is a sign of low blood pressure. I also think I was dumb and did not eat this morning before the race. I was just feeling so full when I woke up. I didn't think I could fit anything else in my stomach… not smart. I think I am still having a bit of trouble getting enough calories in general. (Still so weird.) I get full so easily and then have really bad heartburn most days. I will try harder to eat smaller meals more often throughout the day.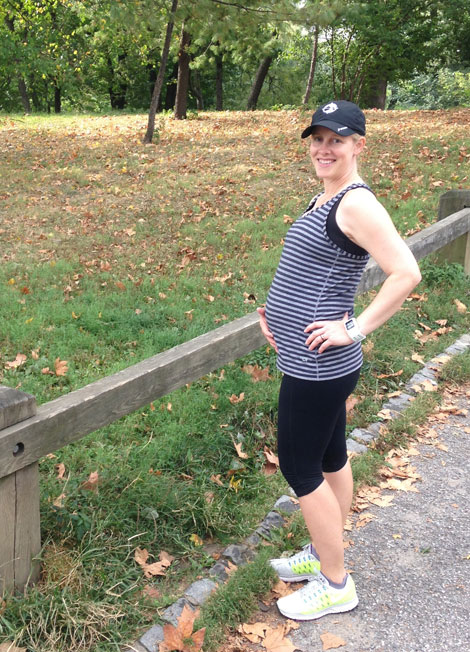 Tuesday, September 9th – Today was our anatomy ultrasound. It was about an hour long and we got to see all of BabyJ's parts and systems. He is looking really good, wiggling around a lot. He weighs approximately 1 pound 2 ounces and the technician said he is going to be very tall. He is still in the 96% percentile for size. The tech was also really impressed with his bicep and calf definition. It is always so fun to get to see BabyJ, but the sonogram photos are about the same as last time… but this time we got a print-out of the bottom-up photo of the proof that he is a male fetus! One for the scrapbook – ha! Tomorrow is my official doctor's appointment, so I might find out more about his measurements and what not then. I am feeling really fine, but more tired than I was expecting/hoping. Everyone says the second trimester is supposed to come with renewed energy levels, but I still feel unproductive and totally brain dead some days. I think I have low blood pressure because I get light headed really easily, like when I stand up or over-exert myself. I'm going to ask the doctor about it tomorrow. I want to do some running this weekend, but need to make sure it is safe…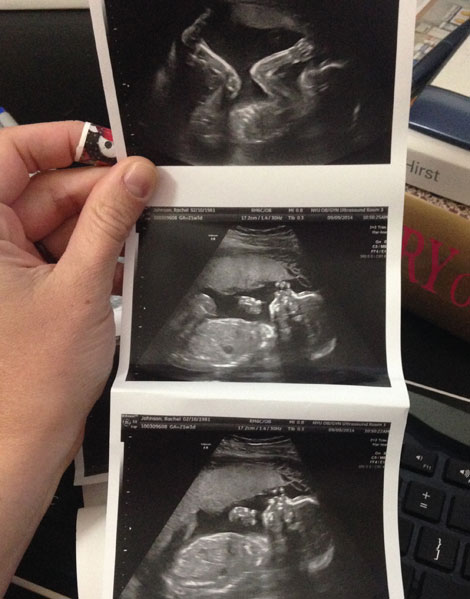 Tuesday, September 10th – I had another pre-natal doctor appointment today. My doctor had a really busy night in the delivery ward, so I saw her assistant again and met with one of the other doctors on the team. They were both really nice. It was a good appointment this time. My cervix looks excellent and there is no evidence of the previously minimal placenta previa. My blood pressure did not measure too low, and the doctor actually ran the same 4-mile race as me on Saturday and said the heat was probably what caused my over-exertion. She says I can keep running as long as I feel good, which is great because I am running a relay race this weekend which might be tough. She said it was ok to do as long as it was something I am used to. I'll just really watch my heart rate and walk as much as I need to. In other good news, the Quad Screen test came back with excellent results, all within the minimal risk ranges for any chromosomal abnormalities. So, the doctors don't recommend an amniocentesis. I am glad. AND, I have been offered a seat on the subway three times lately! All by women. I usually accept. I mean, I might as well enjoy this whole pregnancy thing!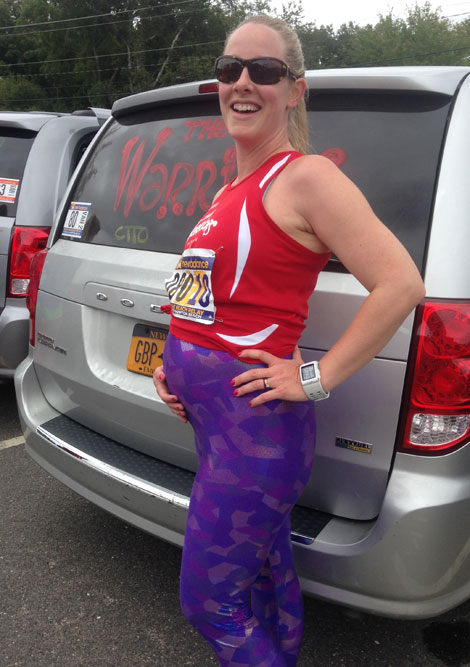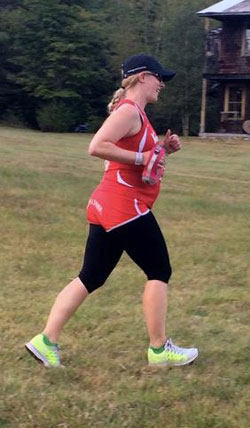 Monday, September 15th, 2014 – Officially, week 22 of this pregnancy ended on Saturday, but I was in a van completing the Reach the Beach relay with Travis and 28 of our fun running friends. I wasn't sure if I would do the relay this year. It is not something that you would necessarily recommend to a pregnant woman — running many miles, some at night, sitting in a van for 30+ hours, getting little sleep and using lots of porta potties — but it is something I have done for the past two years and the doctors didn't have any concerns about it. My difficult 4-mile race last weekend scared me, but with much less mileage than previous years and a very slow run/walk pace, I had a GREAT time at RTB! I am glad I did it. My team was really supportive and I had no problem with the running or any other aspect of the event. My lower abs and bladder got tired from all of the high impact, hilly terrain, but otherwise I felt good. In fact, I feel like this was the easiest year of RTB for me! (Probably because of my low mileage.) I even got a few hours of sleep! I loved spending time with my friends and traveling through the pretty New Hampshire terrain. BabyJ loved the music in the van and I think he fell asleep when I was running. He seems to have had a good time! So, it was a successful weekend. Now that we are back home, BabyJ seems to be moving ALL THE TIME! I think he is doing flips. I am feeling really used to being pregnant at this point and I love feeling him moving around… so now I am having a bit of anxiety about him living outside of me in a few months. I like the set up we have now! ha!
2 Comments » Categories: Pregnancy