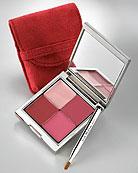 so, travis (my husband for 4 months, now) takes classes at UMKC. some days he has little breaks, and on some of those breaks he goes strolling about the Plaza, like a man-about-town. today on one of these plaza-breaks he bought me a present! i love presents! and he suprised me with it after work (which is good because i worked a long day, today: 7 1/2 hours!).

to make a long story a bit shorter, he delighted me with the presentation of my very own Trish McEvoy Little Treasures Pretty Collection lip palette. it is encased in a sterling silver mirrored compact, with matching retractable lip brush, that both fit in a red suede pouch perfect for purse travel. i am in love with it!

Trish McEvoy cosmetics make very classy gifts.