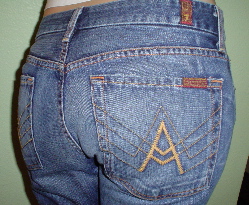 i have been searching for months (sadly, my tride & true j.crew denims split through the crotch) for the perfect new pair of jeans. ask my faithful husband and sweet mom, they spent hours with me at the mall… but, finally, the search is over!

ta da! my new Sevens! they fit perfect (no gapping in the back), they are the perfect length, the perfect color, and finally i have joined the land of the oh-so-hip.

and i don't care what anyone says about the price tag, i would pay anything for a good pair of jeans! afterall, you wear jeans everyday.

oh, and by the way, these are NOT the knock-off Sevens from (ewwww) Express. i got these babies at Nordstrom.