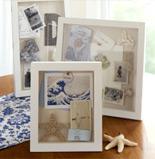 I love these shadow boxes from Pottery Barn, but I haven't bought one for myself yet.

I bought one for my friend Jen for her birthday, but it turned out I picked up the natural wood color instead of the mahogany! That was dissapointing. Mahogany would match her house better. I hope she still likes it. She likes scrapbooking and crafts, so I thought this would be an extension of that.

I would like to get a white one and put mementos and photos from my wedding in it, along with a program or an invitation. The only problem is that I have so much 'wedding memory' stuff now! I think 4 albums and 3 framed photos is bordering on over-kill.