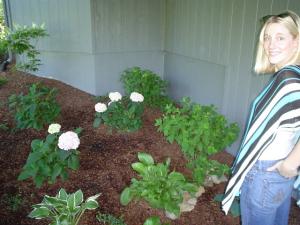 Over the weekend I kept busy going to a Clam Bake at my parents, and a barbecue at Travis' parents. The photo above is from their house. They got some new landscaping (I am wearing my new poncho!). I also got to go to Jack Stack for lunch on Monday. It was all fun. Oh, I also worked at Pottery Barn on Saturday. It was a full weekend.

It was so nice having 3 days off, but I am back to my day job today. Only four days til the weekend, though!

Happy Birthday, Seth!