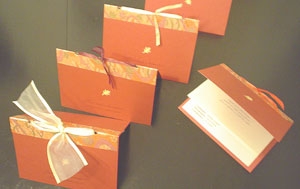 Above is a photo of the programs I have been working on for Tim & jenn's wedding. The wedding is tomorrow and we are going to the rehersal and rehersal dinner tonight. I know it will be fun! Check out Tim & Jenn's wedding website.
The programs are made with Paper Source Stardream cover paper in Mars with a fall colored accent paper at the binding, and a leaf punched in Stardream Gold on the front. The inside pages are either Stardreem Gold or Opal. We used all different types of ribbon to bind the pages to add some variety. I printed them all from my 5 year-old Imac on an HP bubble-jet printer, using QuarkXpress for layout.
All Lambles must check out this website! You can create your own ice cream flavors!