I haven't done one of these shallow, girly, shopping-type posts for quite a while, and a good friend gave me some advice on how to relieve some pre-school stress by shopping for new clothes… So, even though I can't afford any of these items (total for all of these things comes to $1,238), I thought I would do some fantasy shopping. Of course, even my fantasy shopping items are all sensible, practical, neutral-colored basics.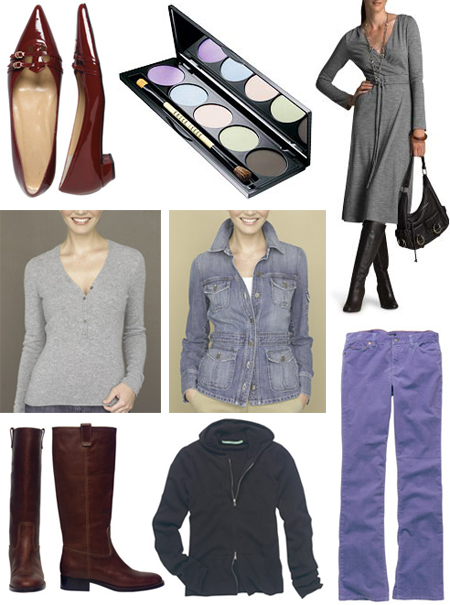 The wish list:
– J. Crew Sloane Patent Leather Flats in deep garnet – These would go GREAT with jeans!
– Bobbi Brown Eye Bright Palette – I have been wanting some colored eye shadow for a long time… but, alas, this set is already sold out.
– Banana Republic Stretch Wool Faux Wrap Dress – Banana dresses are so flattering and comfortable.
– J. Crew Cashmere Henley in heathered grey – Comfort, luxury, and compatibility with everything!
– J. Crew Denim Cargo Jacket – I have been wanting this jacket for a while, and now it is on sale… it would go good over the hoodie or henley.
– J. Crew Montana Leather Boots in dark brown – Boots would be great for walking around Eugene in the winter, plus they are so hot right now when you tuck your jeans in them. Also, these would be really cute with a cordouroy skirt I have.
– J. Crew Cashmere Hoodie in black – A Black hoodie would go with pretty much everything, and cashmere just makes it nice!
– J. Crew Dream Stretch Bootcut Cords in french blue – I need more pants other than jeans. I like this blue color, but the green tea color is also nice.
I have also put all of these items on my Things I Want Wish-List, just to keep track of them… you know, in case I come into some money or something!