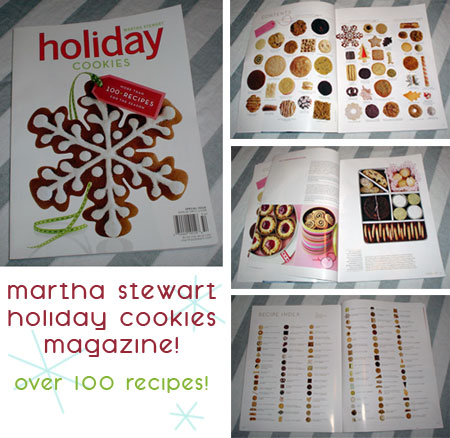 It has been a hectic week. I had about a million assignments due and then I had class all day today (Saturday). Last night I was writing a five page single-spaced paper that was due for today's class. I am telling you, this school stuff is getting crazy busy! Good thing I only have three weeks left… Travis bought me this special issue of Martha Stewart magazine all about holiday cookies a while ago, but I haven't had time to post about it, let alone make any of the delicious cookies contained inside! It is so cool! It has an index of all of the cookies with lovely pictures of each one, then it has the recipes and some packaging ideas. At the end, it has an alphabetized index (again with a photo of each cookie) and little symbols indicating whether they pack and/or freeze well. It is so nice! I will be keeping this issue like a recipe book. Angry Chicken also writes about the mag.
Here is a preliminary list of all the different cookies from the magazine that I would like to attempt to make sometime before Christmas (just letting you know, it probably won't happen):
:: coconut cream-filled macaroons
:: stained glass trees
:: chocolate sandwiches
:: chocolate pretzels
:: peppermint meringues with chocolate filling
:: surprise cookies
:: lime meltaways (i've made these before – they are awesome!)
:: decorated sugar cookies (my usual)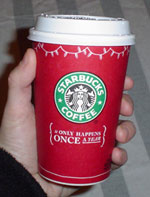 I will be lucky if I get even one type of cookie baked this season, but the little photos of each tasty cookie are just so tempting! There are a few recipes that are probably never going to be on my baking list, such as the whole wheat date bars, fig pinwheels, and the pine nut cookies… oh well, not even Martha can be perfect all of the time!
On another Christmas related note, Starbucks has started using their red cups. You know it's the holiday season when they break those babies out!
One more tidbit: Jen & Wendy at piddleloop have opened their adorable new store! Go check it out!