Mar 31st 2006 06:14:28 pm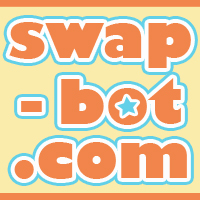 My goodness! Swap-bot is growing like crazy! We have helped to host over 100 swaps! There are a wide variety of swaps and a majority of the current ones are happening in April and May, so go see if there is something you are interested in. There is lots of swapping fun to be had! Also, Swap-bot now has its own MySpace profile! Go check it out and be Swap-bot's friend!
I would like to sign up for just about every swap on Swap-bot, but I know that I need to limit myself. Right now I am in the Promo Swap and the PurplePinkandOrange.com Mixed CD Swap. Please just remember that if you sign up for a swap (and don't drop out before the deadline) you are committed to that swap and you MUST send items to your assigned partners. There has been a few problems with participants not following through with the swaps they commit to. We are working on a way for everyone to rate each other as swappers, but it is complicated and may take a while to implement. Eventually, it will be worked out so that swappers with a very low rating will no longer be allowed to sign up for new swaps. For now, our only fail-safe system is the nagging emails we send out to every participant who has not marked that they "sent items" on their swap profile. We send them an email everyday after the swap deadline until they send their items. It is a bit annoying, but we really want the swaps to be successful and fair for everyone!
2 Comments » Categories: Swap-bot, Website
2 Responses to "Swap-bot ♥ MySpace"
G2 on 01 Apr 2006 at 8:06 am #

can you tell me if i'm signed up for the mix cd swap – i think i might be but i haven't gotten anything emailed to me telling me i am.

thanks

travis on 01 Apr 2006 at 8:45 am #

Hi dad,

you aren't signed up for the cd swap. so even if we did send signup emails (which is a good idea!), you wouldn't have gotten one.

I'd be interested to know what you clicked on to make you think you got signed up.

Try again here:
Leave a Reply