Jul 6th 2006 12:44:53 pm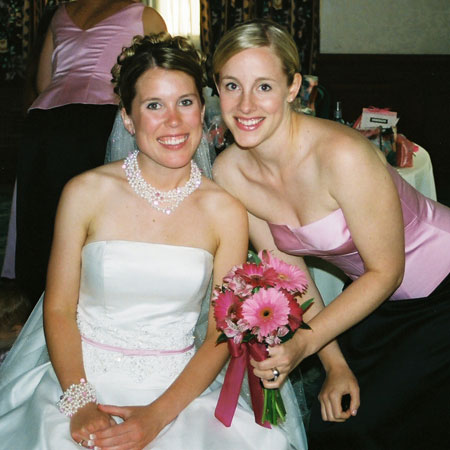 If you haven't noticed by now, Chelsea's favorite color is pink. Her wedding to Scott on Sunday, July 2nd, was drenched in pink… and it was beautiful! The bridemaids wore pink tops, the flowers were pink, the cake was pink, her shoes were pink, the men even wore pink vests and ties. I have never seen a color theme used so extensively, or so well. Chelsea and her mom, June, did a wonderful job planning the whole event.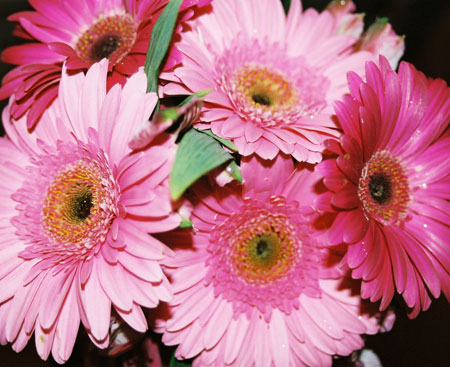 Close up photo of my bouquet. It was so beautiful. I wish I could have brought it home!
We started the morning at the beauty parlor at 10am. I was not entirely thrilled with my hair-do, but Chelsea's looked lovely with her curls and veil. I arrived at the Clubhouse (the wedding and reception location) with the other bridesmaids around noon. We all got ready, took some snapshots, then went down to the wedding stage for the professional photos. There is never enough time to take all of the photos you would like to at a wedding, but I know that Chelsea and Scott will have lots of fabulous ones to choose from.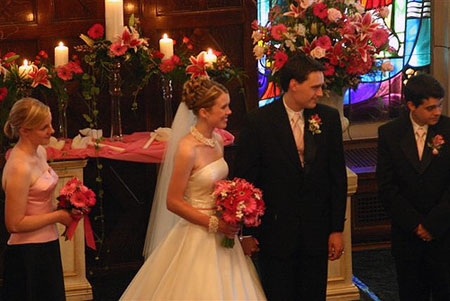 The ceremony started at 4pm and it was perfect. Chelsea's dad performed the entire ceremony, and I was very impressed that he made it through without crying. The whole thing was very personal and sweet. I didn't even get tired standing up on the stage! I had to fight from crying once or twice, which is weird because I didn't even cry at my own wedding. I think I am just protective of Chelsea since she is like my younger sister. I am so glad I got to stand next to her as her Matron of Honor on this special day in her life.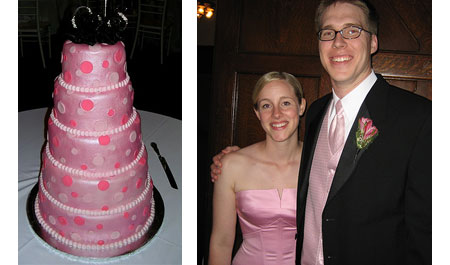 The reception was lots of fun, even though we spent most of it standing in a receiving line. It was ok, though, because we got to see all of the guests. The pink cake was so cute, and almost all of it got eaten! Travis and I even gave a toast during the reception. I was very nervous to talk in front of all of the wedding party and guests, but I think it went ok.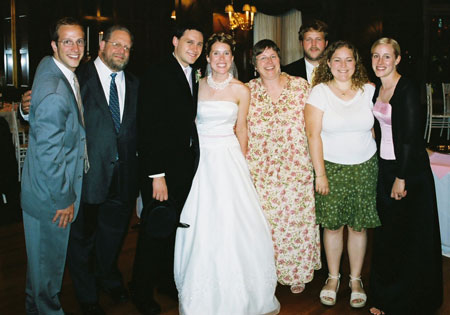 The bride and groom with my entire family… except Travis and Seth.
At the end of the reception, Travis, Erin, Kyle and I went and decorated the Mustang that Chelsea and Scott were driving away in. Because it was a rental, we only tied pink ribbon and streamers to it so that it would be easy to clean. I think it worked out nicely, and it went with the color theme! The happy married couple didn't want to leave the reception, but we finally got them out the door…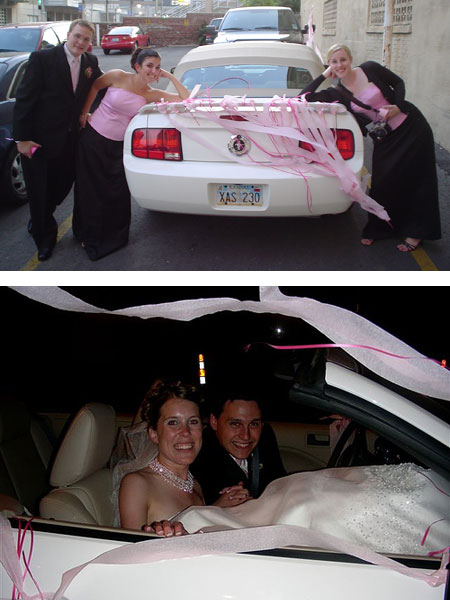 To read even more about the most beautiful wedding ever go here, here, here, or here. I also have all of the photos I took up on my Flickr "Chelsea and Scott's Wedding" set.
2 Comments » Categories: Family, Friends, Travel, weddings
2 Responses to "chelsea + scott = love"
Wade on 06 Jul 2006 at 6:43 pm #

I like the photo layout and captions Rachel. It was nice seeing you and Travis. Have a good rest of the summer.
Leave a Reply