Nov 2nd 2006 11:56:18 pm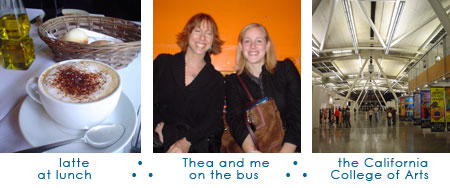 I don't have reliable internet, so I have to do this quick…
Despite the lack of sleep and my lingering sickness, I am having a pretty fun time in San Francisco. We got to our hotel around 10 am and I promptly took a nap. Thea, Reed and I went to a nice Italian restaurant for lunch, and then Reed and I went shopping in downtown. It was raining and we got a little lost, but we made it back to the hotel in time to load the bus headed over to the conference opening reception. The conference is being held at the California College of the Arts which is a really swanky fine arts school. The keynote speaker tonight, Dr. Amelia Mesa-Bains, was inspirational. She talked about creating positive social change through public and community-based arts. It feels good to have our purpose for going to graduate school reinforced… Anyway, I think it will be a good conference. I am getting nervous about presenting my research tomorrow, but I am sure it will be fine.
(My second day of NaBloPoMo completed just under the wire!)
you may also these posts:
2 Comments » Categories: School, Trips
2 Responses to "crafting a vision – day one"
Libby on 03 Nov 2006 at 8:29 am #

Oh my gosh! that latte looks out of this world. I am soooo happy you pushed yourself to go. I know it is not easy to travel, much less sick, but just you describing all that you did in just one afternoon makes me envious. I hope you really stay positive and have a fantastic time. I know I always say the obvious. I just think on a primitive level. Have fun for me.

Libby on 03 Nov 2006 at 9:32 pm #

How did your presentation go?
Leave a Reply