Mar 10th 2007 11:47:43 pm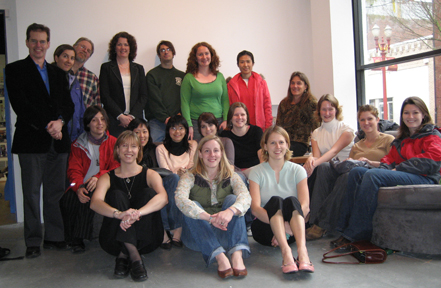 This is a group shot of all of the AAD peeps who went to Portland yesterday. I had a pretty fun time even though it was rainy and gray all day. It was nice hanging out with friends from school and commiserating about grad school hardships. We got to tour the Portland Center Stage Armory theater. It is an old building that has been remodeled in an eco-friendly way. It was very cool inside. We also went to some galleries, like the Upper Playground boutique and gallery. Then we toured the new location of the Contemporary Craft Museum which is currently under construction. It was an exhausting day, but I am glad I got to see all of the places we went.
Believe it, or not, Travis and I are headed up to Portland again tomorrow so that I can pass out my master's research survey to the vendors at Crafty Wonderland. I am surveying them about their internet marketing strategies as part of my major master's research project. We always have fun in Portland, but this weekend I am just so exhausted. I hope tomorrow goes well.
1 Comment » Categories: School, Travel
One Response to "back from portland"
Chelsea on 11 Mar 2007 at 3:02 pm #

I hope you had a good day today and good luck with your master's research survey!
Leave a Reply