Mar 11th 2007 10:09:39 pm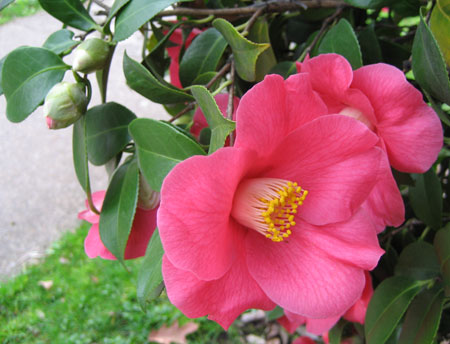 I am exhausted. We had a good day in Portland, but man, a weekend goes fast when you are driving four hours a day. I handed out my survey to the vendors at Crafty Wonderland. Here is a picture of me in front of the sign for proof. All of the crafters were just lovely and so kind. I already received seventeen of the surveys back today. My goal is to get twenty. I gave out thirty-five and the people who didn't give me theirs today have envelopes to mail them to me. So, I think I will reach my goal easily. If anyone from Crafty Wonderland is reading this, thank you so much for your help! I also bought a bunch of great stuff at Crafty Wonderland that I will photograph and post about later. There are so many amazing craft artists out there!
After handing out the survey, Travis and I went to Chipotle for lunch and then went and finally bought the extension corner desk for our office. We are too tired to set it up now, but I will post pictures once I find some energy. I am so excited that Travis and I will actually be able to work in the same room together from now on!
(The top photo is from our front yard. The bushes and daffodils are blooming. Spring comes early in Oregon!)
1 Comment » Categories: Crafts, School, Travel
One Response to "back from portland, again"
Libby on 12 Mar 2007 at 7:46 am #

I am going to set up the office so Dad and I can work together, too.
It will be soooo cool. I bet Dad can't wait. Very lovely flowers. I hate to admit it but I don't know the name of that bush.
Leave a Reply