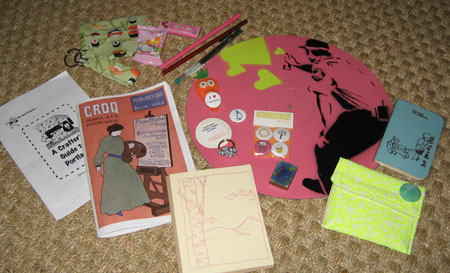 Crafty Wonderland in Portland was great for the second time. All of the crafters are so talented and kind. And the place was hopping! I hope everyone made a lot of money. I know I bought some great stuff.
Here is a list of my loot (as seen in the photo above):
On the far left is the Crafter's Guide to DIY Portland by the very kind Diane, of CraftyPod. Diane was giving out these guides for free! It was great meeting Diane in person and chatting with her a bit more about swap-bot. She is very nice. Check out her new DIY Alert! website. It is a great resource!
Next to the Crafter's Guide is the newest issue of CROQ zine. CROQ is a very cool zine for crafters. I am definitely going to work it into my research somehow.
In the middle foreground of the photo is a beautiful screen printed card by Vanessa Kauffman. I don't know if she has a website and I didn't manage to grab her card, but her illustrations were all beautiful.
Above the card is beaded ring by Piddix. I spied this ring when I was doing my first walk around the room handing out my survey. I had to go get some cash and I was so afraid it would be sold when I got back, but it wasn't! whew!
Above the ring is an irked carrot pin cushion and matching "i love vegetables" button from button arcade. I have wanted one of these cute dudes forever. There are also cheese, meat, and tofu versions. I think I need to start a little collection.
Next to the carrot is a microscope button from The Crafty Scientist.
The four pack of buttons is from Squid37. The buttons are super cute. Plus, the Squid37 website is very well-done. There is a video game – check it out!
Below the buttons is a little blue magnet with a bunny painted on it. It is by Bend Rivers (who I also can't find a website for) and it was only $2. What a deal!
The neon green wallet was just too cool to pass up. It is a good size for holding business cards. It was made by Jesseca McCloskey of Paper Treasure. She had all sorts of cool journals I was also coveting.
The big pink thing and the little blue notebook are from the same person – Beth Myrick of adorable spraypaint art. Beth was very cool and she designs and creates all of her stencils for spraying by hand. The big pink thing is actually a spray painted record. I am going to hang it in my craft room/area.
Ok, finally… Last week I received another lovely package from my friend Jen of Piddleloop. She sends me the greatest stuff! When I got her package I immediately ripped it open and started using everything inside. It all got dispersed before I could get a good photo. The group of things in the upper left of the photo is all from Jen, but it is only a some of what she sent. She sent me a new fabric keychain and tissue holder made with sushi fabric (so funny), three gel pens and two pretty pencils, a zippered pouch, and some cute candies and a little thing of lotion… there may have even been more. I was just too excited when I opened the package to keep it all together. Thank you, Jen! You are awesome.
I know that was a long list, but I really wanted to show off the awesome stuff that independent crafters are making. I just love that everyone has their own unique style and voice and it comes through in the things they make. So, support independent artists! It promotes diversity in the marketplace, innovation, and ingenuity. Plus, you are helping people do something they love. xoxo