Yesterday was a big city day for us! Travis, Crusher, and I started the day with a walk to Prospect Park for the doggie play time. From 5-9 am you can bring your dog and let it off the leash. It is very popular and there are always people and dogs playing as far as your eye can see! We have gone for the last two weekends, but yesterday was the first time we let Crusher go off of his leash. He did a great job and always came to us when called. What a perfect pup!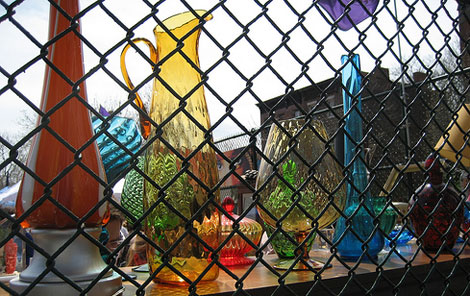 For lunch we walked over to the Fort Greene area for the opening day of the Brooklyn Flea. I was so excited about this flea market after reading all of the hype on many NYC blogs… unfortunately, I don't think it lived up to my expectations. After living in Eugene and experiencing the Saturday Market and/or Piccadilly Flea Market nearly every week, the Brooklyn Flea seemed small and a bit pretentious in its offerings. It was also very crowded with tons and tons of hipsters wearing old-timey shoes and skinny jeans.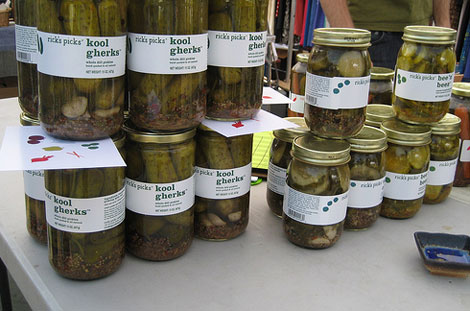 One of the booths I was most interested in was Rick's Picks, a local pickle company. I had previously heard of Rick's Picks on the Martha Stewart show and I LOVE pickles, so I was eager to try them! I actually bought my first jar of Mean Beans (delish!) at the Brooklyn Green Market, but it is good to know they are also sold at the Flea. I am on a mission to try every variety of Rick's Picks!
Despite the Brooklyn Flea's limited size and the hipster overload, I think I will try to return some time in the future. It had an interesting mix of vintage booths, new craft-type booths, and gourmet food booths. We bought a whoopie pie and a mini cupcake before escaping the crowds and heading home. It was hot and Crusher had seen enough. He ended up riding in my bag for most of the trip!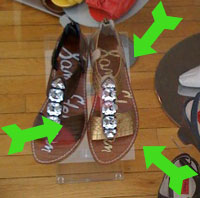 On the way home I bought a new pair of Sam Edelman shoes at one of the shops near our apartment. You must have good shoes in New York City. You walk everywhere! In fact, after getting home from the Flea, Travis and I decided to trek to Manhattan to go to some record stores in the West Village. It was record store day and Travis needed his vinyl fix. We also tried some Pinkberry yogurt and ate dinner at Hummus Place. It was a wonderful day to be out and about, but man, was I tired and sore by the time we got home!!
Today we are hanging out at home and relaxing. I'm doing computer stuff, Travis is helping with some Swap-bot improvements, and Crusher is catching up on his sleep.