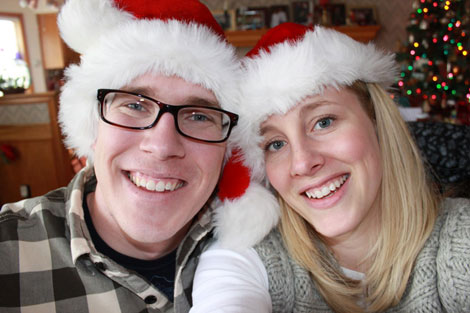 We are back from our Christmas trip to Kansas City to visit our families. We had a wonderful time, but it is hard to go back to reality and back to work. I want to go back to the cookies, and shopping, and laughing!
We did so much during our week-long trip, it is already hard to remember everything… We started the week at Chipotle, then went to Round Rock and ate S'mores, went to see Avatar with 3D glasses, then shopping, D'Bronx pizza, a KU basketball game, frozen yogurt, Archivers, Houlihan's, Mario Kart on the Wii, "getting to know you" on Christmas Eve, presents and stockings on Christmas morning, family time, Target sales, lots of snow and lots of dogs in coats, then a pizza party, First Watch, and finally ended with more Chipotle and a delayed flight.
It snowed a lot while we were in Kansas. I don't think I have seen so much snow in years! Crusher actually got pretty used to it and liked playing outside… he looked fantastic in his new winter coat!
p.s. I forgot to add that you can find lots more photos in my Christmas in KC 09 Flickr set and on Travis' Flickr.