This post is the first in my new series of NYC Cupcake Reviews. Since reviews require taste-testing, I hope to publish many more honest and objective cupcake reviews in the near future. Check back often!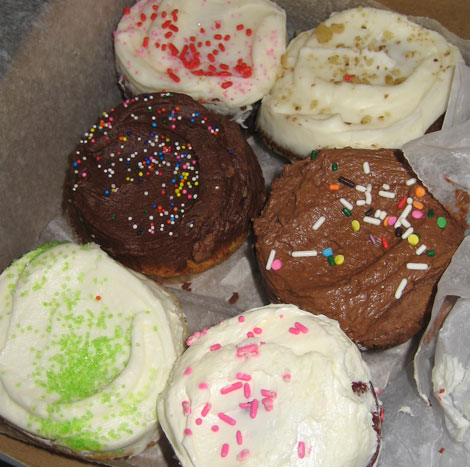 Pictured above are the six cupcakes I bought at Sugar Sweet Sunshine Bakery, which is located in the Lower East Side on Rivington Street. I loved the name of the bakery when I found it online and was super-excited to visit. I was a little bit let down by the exterior of the shop when I arrived, but the inside was cozy and the woman behind the counter was exceptionally friendly and patient as I picked out all of my different flavors. I purchased a variety, including chocolate-peppermint, pumpkin, vanilla, chocolate, lemon, and red velvet. It took Travis and I a couple of days to finish all of the flavors, and the last ones were a bit dry by the time we got to them – they were definitely best on the day of purchase. The pumpkin flavor was our very favorite. The cake was moist and the cream cheese icing was very good. Sadly, Travis found an egg shell in his cake, which sort of hurt his overall impression. The peppermint-chocolate was our second favorite flavor, but the cake was not as moist – even on the first day. The vanilla and chocolate cakes were topped with chocolate-almond frosting, which was overpowering, and the red velvet cake's icing was way too buttery.
The cupcakes looked sweet in the bakery case (below), but they did not travel well. Overall, I would describe these cakes as a little above average, and would recommend trying one if you visit Sugar Sweet Sunshine Bakery and plan to sit and eat it there. One of the best things about these cupcakes is that they are only $1.50 a piece. Next time I go, I will make sure to order their seasonal or special flavor.