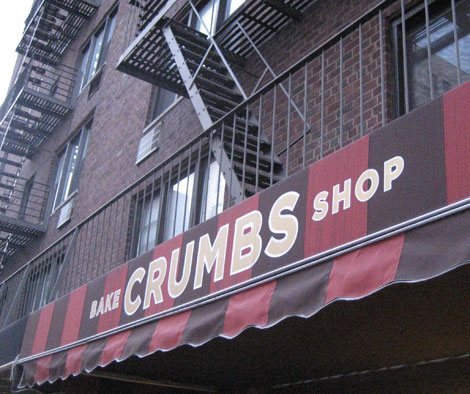 New York City is back on my good side! On Sunday, Travis and I went for a late (really late, like 4 pm) brunch at Penelope Cafe in Murray Hill. (It was very delicious, by the way. I highly recommend it.) Afterward, I thought I should do my blogger duty and pick up some more cupcakes to objectively review for my loyal "NYC Cupcake Review" followers. ha!
Travis and I stopped by the small Crumbs Bake Shop near Union Square and picked up a chocolate coconut and a "Half-baked" cupcake to review. Crumbs is a relatively new bakery that was started in 2003 by a former attorney and now has over a dozen locations, both in New York and LA.
This was not my first taste of Crumbs cupcakes. Travis and I have picked them up at least twice in the past and I also always manage to have one at the museum cafe when I visit the Met. I don't remember all of the flavors I have tried, but I know that caramel apple, blackout, brownie, vanilla coconut, and carrot are on the list. In the past, I claimed that Crumbs is my favorite cupcake shop in NY, and this review definitely reinforces that!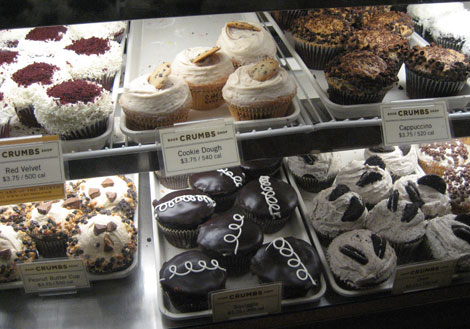 Crumbs cupcakes are large – about the size of a large muffin – and they come with tons of frosting and fun toppings. The bakery case reminds me of a gelato shop because of all the goodies you find stuck in the mounded frosting. The flavor selection is amazing and overwhelming, and they always have a
"cupcake of the month" that they are featuring. It is hard for me to choose anything other than the chocolate flavors, but every time that I do I am pleasantly surprised. Of course, for this review I went with chocolate!
Both of the flavors we chose were perfectly moist, with light, sweet icing. The chocolate coconut cupcake was simple with chocolate cake, vanilla buttercream frosting, and coconut sprinkled on top. The "Half-Baked" flavor consisted of chocolate cake with a vanilla buttercream filling (yum!), chocolate and cookie dough flavored frostings, and brownie and cookie pieces crumbled on top. So decadent and so delicious!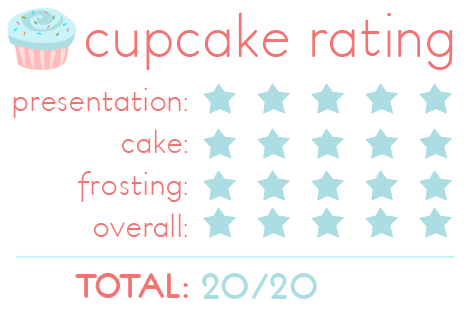 I tried to avoid giving Crumbs a perfect score, but couldn't. Everything about the cupcakes was perfect, from the store presentation and the flavor selection to the texture and taste of the cakes. Even the take-out containers are terrific, with separate holders for each cake to keep them from toppling over. The only downside that some people may find is the large size and corresponding price. Each cupcake is $4.50, but they are definitely worth it and are easily large enough for two people to share. Travis and I ate our two cupcakes for dinner and we had a hard time finishing them between the two of us. (Luckily, Travis stepped up and ate the last bits, and he wanted me to add that he thinks these cupcakes are "fantastic.")
I cannot recommend Crumbs cupcakes highly enough! They are the best cupcakes I have had so far in New York. Yum, yum, yum!