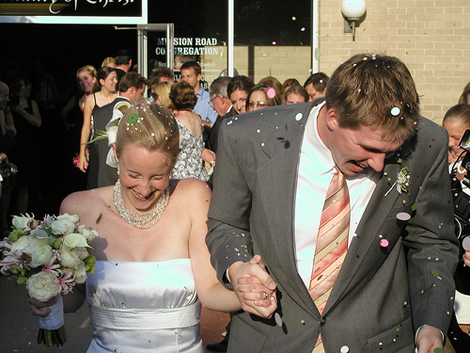 I've been reading this great, new-to-me blog called Scoutie Girl and today it is hosting a "We Scout Wednesday: Weddings" theme. The blog author, Tara, wrote about her totally laid back and completely sweet wedding in 2007. Her post was super-cute and honest, and it inspired me to play along….
Travis and I were married almost seven years ago… it doesn't seem very long, but man, what a difference those seven years have made in technology. All of our official photos were analog, taken on 3 1/4″ negatives that are now stored somewhere at my sweet and understanding mother-in-law's house. The few photos that I do have in digital form were taken by my cousin, Matt, who is an excellent photographer – so I guess, I really came out with the best of both worlds.
Thinking back on the wedding, I am just overwhelmed by how much work my friends and family did for me (and Travis) for the event. At the time, I was really caught up in the planning and I was trying to do "it all" myself. I was obsessed with Martha Stewart Weddings and I wanted to include a lot of handmade elements. I did all my own invitations, programs, confetti, CD favors, the guestbook, and I hand-beaded all of the guy's corsages. I felt like I did a lot, but it was nothing compared to all the logistics (and bill$) my parents dealt with, the fun rehearsal dinner my in-laws hosted (thank you Johnsons!), the great job Travis' uncle did officiating, all the help we had in set-up and in clean-up (thank you, Manns!), all the miles everyone traveled, all the good spirits (thank you, brothers!), and kind words (thank you, everyone!), and patience with the millions of photos and the super-delayed cake cutting… I mean, my sweet sister-in-law sat with me while I cried at the hair dresser before the ceremony, and my extended family all came out to a post-wedding picnic in 100+ degree weather. That is the kind of stuff that I did not notice on the big day because I was too focused on my handsome new husband and our glorious new life, but it is the stuff I think about now and hope that I can pay forward someday.
Thank you, family.