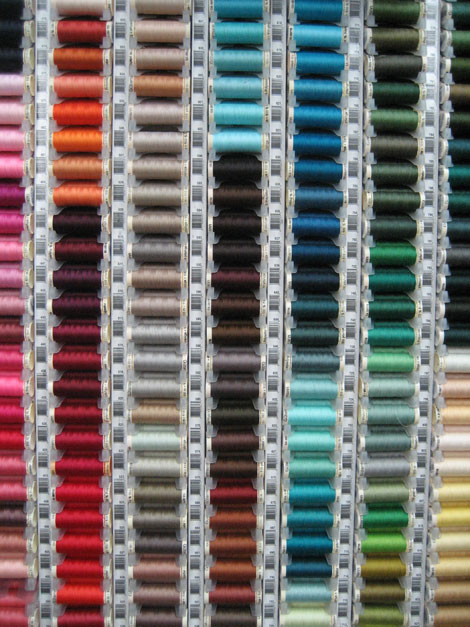 Two of my very cool and creative internet colleagues, Deb & Christy from Toolulu.com, visited New York City for business early this week and they were kind enough to invite me along sight seeing on Tuesday. The weather on Tuesday was actually horrendous. It was cold and windy and pouring rain nearly all day – not the weather you want for sight seeing on foot. But we were determined and we managed to hit many of the crafty destinations in the city.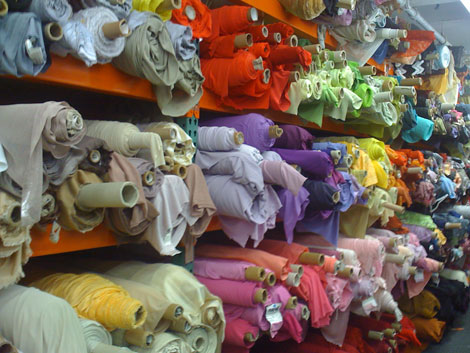 The two photos above were taken at Mood Fabrics in the Garment District. The warehouse store has become something of a tourist attraction since it has been featured on Project Runway, but it was my first time there. I would guess Mood has any type of fabric you could possibly be looking for… but you definitely need to have a project in mind if you go there to shop. The choices are overwhelming! I bought some neon pink & grey ribbon that jumped out at me.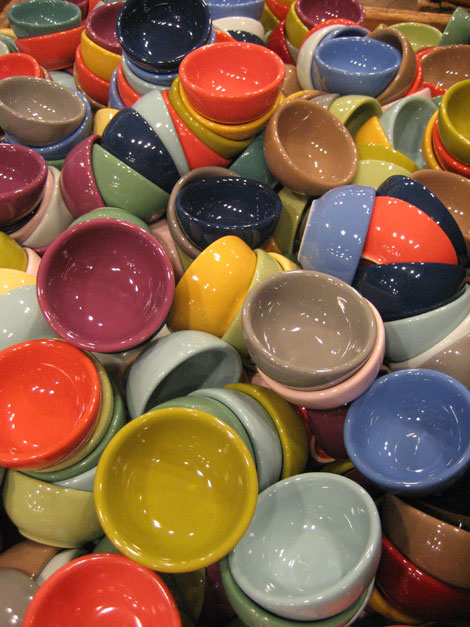 Next, we trekked over to M & J Trimming. (You may recall my previous trip there.) I bought a bunch of ribbon – including more neon, it is sort of my new thing – and some pom-pom fringe. We also checked out Fishs Eddy, where we saw the bowls pictured above, and ABC Carpet and Home. Swoon! I love that place so much. We picked up Crumbs cupcakes, had 'Wichcraft sandwiches for lunch, and then headed to Soho before the girls had to leave for the airport. It was such a fun "vacation" day for me even with all the rain!

Good thing the Toolulu girls' visit happened in March and I got all of my ribbon buying out of my system, because this month I have taken the April Stash Bust pledge. I have committed to not buying any new craft supplies this month and instead to making things only with items I already have in my stash. The intention is to help the earth a bit in honor of Earth Day on the 22nd and to think about how we use the things we buy. It fits in perfectly with the idea of Reduce, Reuse, Recycle. Swap-bot is one of the sponsors of the April Stash Bust "event" and you can learn more over on the Swap-bot blog. There is even a stash craft contest with some awesome prizes, but you have to take the pledge in order to enter! I am also hosting an April Stash Bust craft supply swap in conjunction with the Challenge and I'd love to have you join. We are each going to send an envelope of extra, unused supplies from our personal stashes to our swap partner. It's a great way to give new life to neglected supplies and get some fresh stuff in return! Fun!