On Thursday night, I traveled to Chelsea to attend Martha Stewart's "Stitchfest," a party celebrating the launch of her new Encyclopedia of Sewing and Fabric Crafts. I met my friend, Lisa, at the Chelsea Market beforehand for dinner at The Green Table, a local and organic restaurant in the Market. (I ordered a chicken Pot Pie, which was tasty, but it ended up having a big bone in it. boo.) I will need to check out the Chelsea Market again sometime soon, because it is lovely and we only got to browse a bit of it.
After dinner we headed over to the MSLO building! I was so excited for Stitchfest. I had bought my tickets weeks earlier after Lisa pointed me to the event announcement. I do not know why I continue to be so crazy about Martha Stewart, but I do. Lisa and I posed with her photo at the entrance to the event…. don't worry, we weren't the only ones doing it! Supposedly, Martha was there for a short time, but we missed her.
I am not sure what I was expecting at the event, but it turned out to be a nice, if very tame, evening. There were crafts to do, but we didn't get in line in time. We did manage to get in line for the free embroidered tea towel from the Pfaff sewing machine booth. That was fun. The reps for the machine were really nice. We also entered a lot of drawings, saw lots of lovely sewing projects examples (like the quilting seen above), and munched on a few hors d'oeuvres. I think I expected there to be more of a chance for chatting or networking, but I didn't really make an effort, either.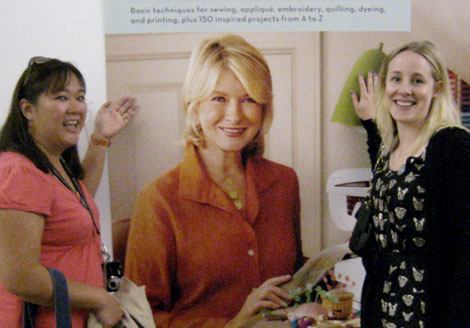 The best part of the night was the goodie bag! The Stitchfest ticket price got you a copy of the Encyclopedia of Sewing and Fabric Crafts, which I am really excited to study and find a few projects to make. I need help with my sewing skills, so I am happy to have this resource. It is nearly 400 pages of projects, glossaries, and sewing technique instructions, all with tons of pretty, full-color photography. Many of the projects are from previous issues of Martha Stewart Living, but it is nice to have them all in one place. Also, in our goodie bags were the current issues of all of MSLO's magazines. I am most excited for the Weddings issue – it used to be my favorite! We also received thread, dye, and needle samples, plus a brad new pair of Martha Stewart Crafts Precision Scissors. I actually needed a pair of those! I don't have any type of sewing or embroidery scissors and I have been doing a lot of hand-stitching lately…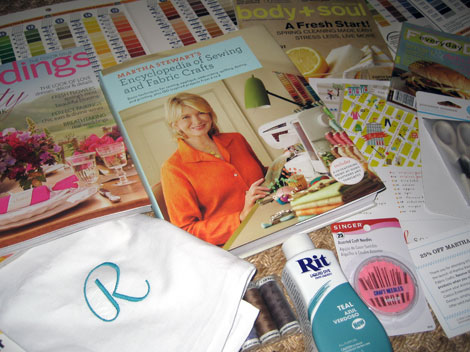 Anyhoo, the goodie bags were exciting and they were a great way to end the night. I am not sure if I would attend another MSLO event like Stitchfest in the future, but I am glad I checked this one out.