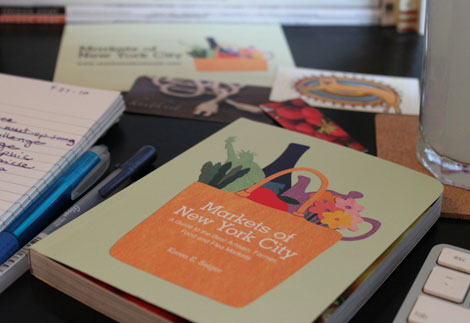 Another big craft show this weekend, but don't worry, Swap-bot was not a sponsor. This weekend it was the Brooklyn Food and Craft Market at the Brooklyn Lyceum, which is very near our apartment. Since Travis is still stuck at home with his hurt knee, I strolled down to the Lyceum by myself to check out scene. The Lyceum is huge and there were craft and food vendors on two levels, plus a mezzanine. There was a lot to see! I was already familiar with many of the craft vendors from previous fairs, but I was blown away by the number of food vendors. Each table seemed to have samples of cookies, and brownies, and jams, and spices. I sampled a lot of tasty things! I ended up buying some pear and chipotle jam from Anarchy in a Jar and some dark chocolate and sea salt caramels from Token Confections.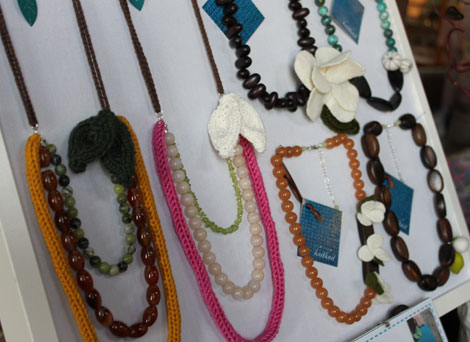 Last week at the Handmade Cavalcade I met Karen Eiger, the author of Markets of New York. Her book was pre-launching today at the Food and Craft Market and I was eager to pick up a copy. It is a small, but beautiful book full of info and color photographs from many of the flea markets, farmers markets, and artisan markets in NYC. I have only taken a preliminary peek inside it, but I have already discovered new markets that I need to visit. As a bonus, some of the market vendors were giving a discount with the purchase of the book. One such vendor was Nguyen Le of KnitKnit. I've met Nguyen previously at Etsy Labs Craft Nights, but last week at the Cavalcade I fell in love with one of her knit and bead necklaces… but I refrained from purchasing it. Thank goodness it was still there this week! I purchased (with the nice discount, of course!) the pink and green necklace in the middle of the photo above and I adore it!
It was a fun and successful market day and there are sure to be many more. Summer is definitely craft fair season! Will you be attending any markets or fairs in your area?