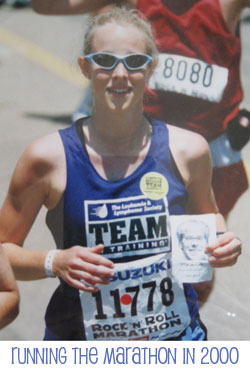 I am a terrible athlete. Absolutely terrible. I can't throw or catch a ball, bench press 100 lbs, do a yoga handstand, or even run very fast… but that didn't prevent me from joining the cross country team in high school. Ever since then, running has been the most effective form of exercise for me.
My enthusiasm for running has varied over the years, but it has always been a part of my life. In every place I have lived, running has helped make it home. It has been my way of exploring my neighborhood and making it my own. In Kansas, I ran the safe streets and bike trails around my parents' suburban home. In Iowa, I ran the gravel roads around the farm land and waved to the Amish. In Oregon, I ran the forested hiking trails of Hendricks Park and Skinners Butte. And, In Brooklyn, I've finally felt at home while running the crowded city sidewalks and Prospect Park trails.
Ten years ago, when I was just a freshman in college, I signed up for The Leukemia and Lymphoma Society's Team In Training with my friend, Jody. We both enjoyed running and I guess we thought it would be "cool" to run a marathon. We were attending school in Lamoni, Iowa, and in addition to our individual training, we had to wake up at a terribly early hour each Saturday to make the over-an-hour drive to Des Moines to do our weekly training with the TNT group. It was intense and I truly can't believe we did it. In June, we both crossed the finish line of the San Diego Rock N Roll Marathon – a full 26.2 miles run by two 19-year-olds far from home. It was more challenging and more fun than I can describe! The 21,000-person crowd running the marathon went on for miles on the roads of San Diego and the number of spectators was even larger. It was such a wild party atmosphere for the entire five hours it took me to finish. (Jody finished much faster and actually placed in our age group!) The experience of that marathon is one of the most vivid memories of my life.
So… why did it take me ten years to do another? Well, it is mostly because of the training. Marathon training is demanding. I have attempted to do it on my own in the past and failed miserably. I know that I need a group to help motivate me to complete the hours and hours of running that is required to prepare for a full marathon, and… I am extremely excited to announce that I have joined The Leukemia and Lymphoma Soceity's Team In Training (TNT) program for the second time and I will be training for the New York City Marathon on November 7th, 2010! Getting into the NYC Marathon is not easy – people from all over the world apply to run in it – and I feel that running it with TNT is a once-in-a-lifetime opportunity. I am excited, can you tell?!
Part of being a member of TNT means raising money for The Leukemia and Lymphoma Society. There are many different charity endurance training programs to choose from now – many more than when I first discovered Team In Training in 2000 – but I chose TNT again because of The Leukemia and Lymphoma Society's commitment to research, education, and patient services. Seventy-four percent of every dollar raised goes directly toward these activities. I have set a daunting, yet exciting, $5,000 fundraising goal for myself and I plan to meet it. Click here to visit my TNT fundraising website. I would be more than thrilled if you would consider making a donation. The Leukemia and Lymphoma Society is a wonderful charity that not only provides funds for cancer care and research, but has also made a huge impact on thousands of lives through TNT. I am proud to be a part of it.
I plan to improve my TNT fundraising page over the next few weeks, and also write weekly blog posts about my training experience. Please check back to follow along on my adventure!