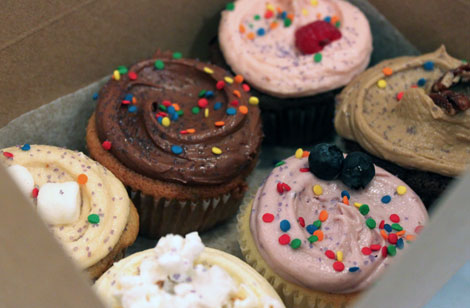 After my big race last Sunday, I determined that I had earned a trip to a new cupcake bakery. Travis and I headed over to the East Village to check out Butter Lane Cupcakes. Nearly all of the store fronts in the Village are picturesque, but Butter Lane is especially cute. The interior was just as charming with rows and rows of cupcakes just behind the counter.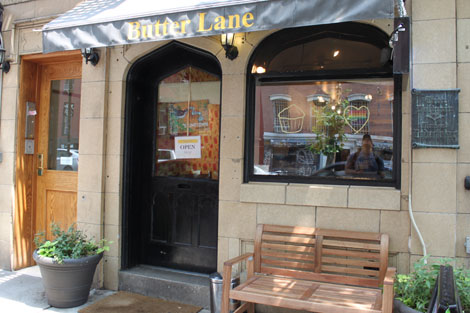 Butter Lane specializes only in cupcakes and they use farm fresh, high quality ingredients. They call them "cupcakes for grownups." They have over a dozen different frosting flavors that you can pair with one of their three cake flavors: vanilla, chocolate, or banana. (You can even order a frosting shot for $1!) It was difficult to decide what combinations to try, but we finally settled on the six cakes you see above: chocolate cake + raspberry frosting, chocolate cake + maple pecan frosting, chocolate + chocolate, vanilla cake + blueberry icing, banana cake + peanut butter icing, vanilla cake + caramel icing.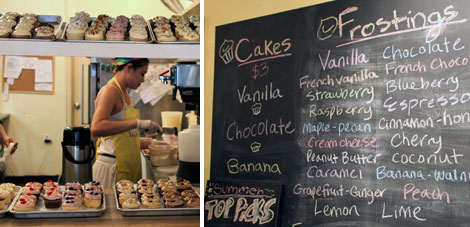 Butter Lane has received many rave reviews, so I had pretty high expectations. I fell in love with the cute shop and pretty cupcake presentation, but I just didn't fall in love with the actual cupcakes. I wasn't disappointed, but I guess I just wasn't blown away.
We took our six cupcakes home and only ate two on the first day. It took Travis and I three days to finish them all. The cupcakes definitely deserve the full 5 rating for presentation, not only for the cute shop, but also for the unique garnishes on each of the cakes. For example, the vanilla caramel cake had popcorn on top. Cute! The actual cake was the most disappointing part of the Butter Lane experience. Even on the day of purchase, the cake was very dry and crumbled apart when we tried to cut it. The chocolate cake was the most dry, then the vanilla, then the banana. I wish we had purchased more banana cakes because it was our favorite of the cake flavors. The frosting was good, but it seemed a bit too sugary and dense to me. However, the wide range of unique frosting flavors earns Butter Lane a high frosting rating. I liked the chocolate icing the best – we should have ordered all banana cakes with chocolate icing!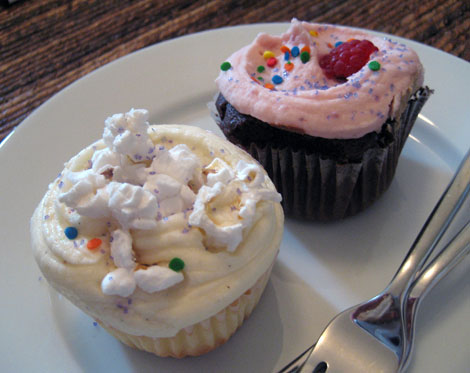 My overall impression of the Butter Lane cupcakes was not as high as I was anticipating… which makes me think that I should give the bakery a second chance in the near future. They also have a space next door to the bakery where you can go to learn frosting techniques and frost your own cupcakes. I think I will try that out next time!