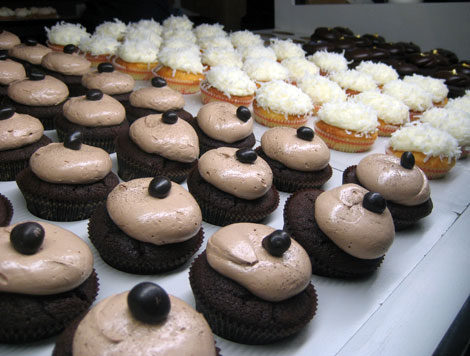 I mostly intended to review New York cupcake shops here on the blog since there are so many, but I can't pass up the chance to visit bakeries in other locales… so today you get a special Washington DC edition of the cupcake review. On Monday, I visited Red Velvet Cupcakery near the Chinatown and Penn Quarter areas of DC with my two aunts, Dana & Amy.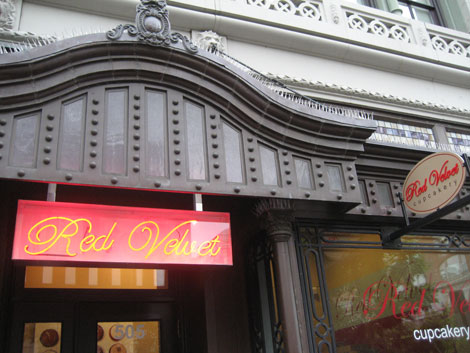 Red Velvet Cupcakery is a locally owned shop which has recently started to open additional locations. They use "only the highest quality ingredients available on the world stage and believe in supporting the community that has supported us," including local dairy. Dana had received a recommendation for the Cupcakery from a co-worker and it was easy to find after we arrived at the Chinatown Metro stop.
The Red Velvet Cupcakery has an adorable store front, but a very small interior. There is no seating in the shop and because they only offer one thing – cupcakes – the menu is simple with twelve different flavors to choose from. The bakery case was filled with pretty dome-topped cakes, so even with the limited selection we had a hard time deciding on flavors for our to-go order.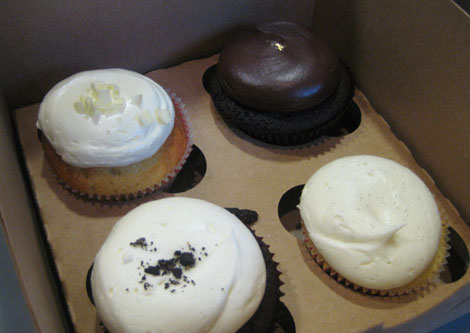 One of the other customers in line ahead of us said we had to try the Vanilla Bean flavor, so we did. We also added a Devil's Food, a Key West, and a Cookies N' Cream to our order. They looked so cute in their specially made carrying box! We carried them to dinner and then back to the hotel to enjoy later…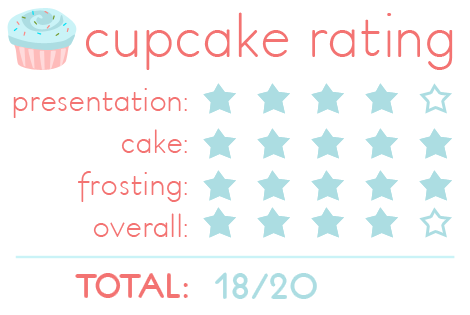 And did we ever enjoy them! They were amazing cupcakes. The cake was moist and flavorful and the icing was light and fluffy. I ate the full Key West flavor and it had just the right amount of lime in the cake without being tangy or sour. The white chocolate icing was the perfect complement to the citrus. Yum! My aunts enjoyed the chocolate cakes and both said the were delicious without being too rich. We split the Vanilla Bean cake three ways, and I am glad we did because it was unanimously our favorite. Thank goodness we listened to the other customer's suggestion! The vanilla icing was perfect in texture and flavor, with flakes of vanilla bean throughout. Extremely delicious!
The Red Velvet Cupcakery earned a near perfect score on my cupcake rating. It lost a point on frosting because some of the flavors were not as strong as others. Vanilla bean was the best. It also lost one point from the "overall impression" category only because the shop was so small and the selection was limited compared to other cupcake shops. However, Red Velvet Cupcakes are excellent and should definitely be tried if you get the chance. I am so glad I had the opportunity to sample them!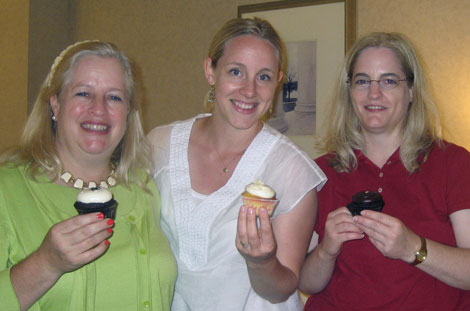 Thanks for the fun day, Dana & Amy!! xoxo