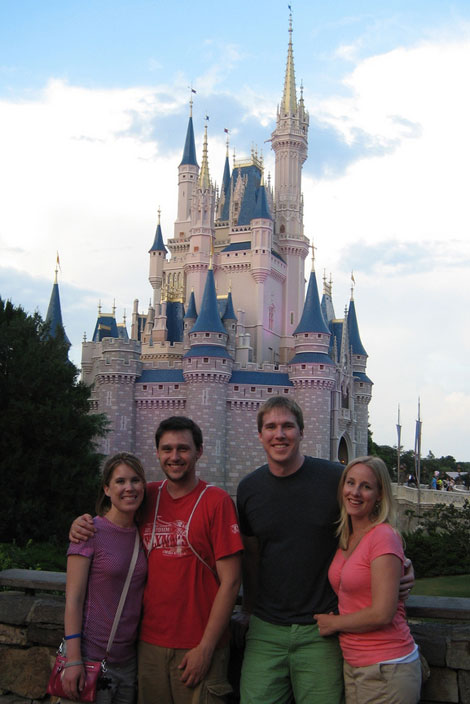 Travis and I got back late yesterday from a wonderful week in Florida. You can guess by the photo where we spent our time…
Due to a paranoid concern for safety, I usually try not to advertise on the internet where I am going until after I have left there. That was the case for our trip to Disney World this summer, but I also felt a little embarrassed telling people where I was vacationing. Disney World may not be the most "adult" destination for four childless twenty-somethings (we went with my brother & sister-in-law — Hi Chels & Scott!), but it was an easy, affordable, sunny, and happy place to spend a week. We planned this trip last year after spending an incredible 17-hour day together at DisneyLand in California.
Say what you will about Disney (too commercial, too saccharine, too dependent on gender stereotypes, historically incorrect, etc…), Disney World really, truly is a very fun and wonderful place. I am not sure how anyone could dislike a place that's main purpose is making children happy. It reminds me of New York City in that we saw people of every color and heard dozens of different languages, but unlike NY, at Disney the streets are impeccably clean and everyone is happy and polite and not in a hurry. …well, unless they are rushing to get in line for Space Mountain!
We had a great time. I love roller coasters and funny shows and tasty treats! I got mocked for constantly exclaiming how pleasantly surprised I was by the quality of the food. (I mean, I was not sure I could survive a week on "carnival food," but I shouldn't have worried.) My favorite ride was the Tower of Terror at Hollywood Studios that takes you up in an elevator and then drops you a bunch of stories over and over. So fun! I think we rode it seven times! Each day was packed with lots of activity – the time flew by!
The most surprising outcome of the trip: I cannot wait to take my children to Disney World (or Land) someday. And you know what that means… I am finally getting down to the business of thinking about having children. That is a big step!
You can see way more photos than you probably want from the trip over on my Disney World Flickr pool.