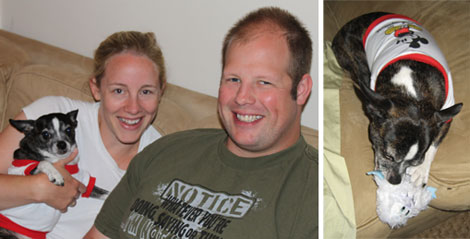 I missed my little dog, Crusher, so much while we were traveling last week! It is really a little bit crazy how much I love that dog. He is my baby and my companion while I work at home… he is just so loyal, it is impossible not to love him.
Thank goodness my brother, Seth, came to NY to babysit Crusher while we were away. It was so much better to have him here than when we left Crusher at the kennel last time we traveled. Crusher was traumatized by the kennel and came back completely filthy and encrusted in urine. It was awful. This time Seth took wonderful care of him – even taking him to the dog park each day!
We got Crush two souvenirs at Disney World – a Mickey Mouse t-shirt and a stuffed yeti from Expedition Everest in Animal Kingdom. Crusher loves the yeti, but he isn't too fond of clothing. He is totally spoiled.