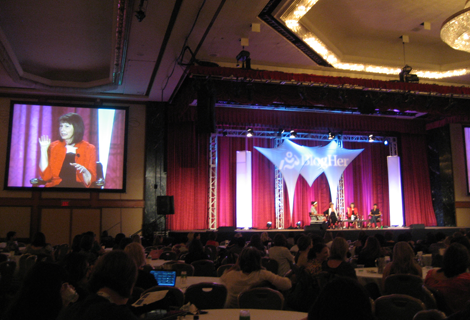 I am sure you are already aware (especially if you follow my Twitter account – hello, too many tweets!), but I attended my first BlogHer conference this weekend. Since it was held in NYC this year and I didn't need to buy plane tickets, I thought I should give it a try. Man, was it a packed two days of sensory overload! I am still processing the experience and am really not prepared to write a comprehensive post with all of the links and blogging info that I picked up, but I wanted to get down some of my preliminary impressions on my favorite experiences from the weekend…
Unfortunately, I neglected to take any great photos, so I am stuck sharing the few iffy ones I did snap. Above is a photo of the final keynote on Saturday, which was one of the most inspiring parts of the entire conference. It consisted of four amazing women ("Need to Know PBS anchor Alison Stewart moderates a powerhouse panel: Marie Wilson, Founder and President of The White House Project and creator of Take Our Daughters to Work Day, author and activist Gloria Feldt from Heartfeldt Politics and P. Simran Sethi, Emmy Award-winning journalist, blogger and environmentalist.") pretty much just having a conversation about how women can use their blogging voice to make change in the world. They inspired me to take myself more seriously and make a commitment to talking about more "important' issues, both online and in real life.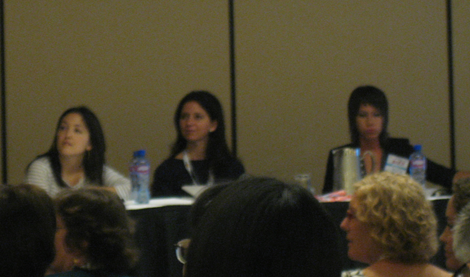 I went to four different "sessions" or classes over the course of the two days: one on using your passion, one on intellectual property law, one on WordPress theme creation, and one on good blog design. The blurry photo above is from the design session, and you can see Grace Bonney from Design*Sponge on the far left of the three-woman panel. I was excited to hear her speak and she did an excellent job. She showed us a lot of examples of great blog design and even shared a sneak peek of the new re-design of her own site that will be released soon. All three panelists were very informative and realistic about what it takes to create a well-designed blog. They stressed the importance of being extremely descriptive and clear when working with a designer, and that it can cost many $1,000s of dollars for a truly professionally designed site.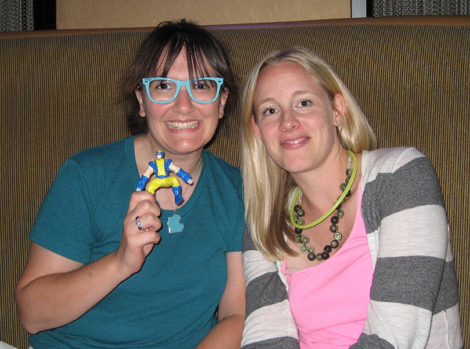 What was my favorite part of the whole conference? Definitely the Etsy Crafty Blogging panel that I participated in on Thursday. I guess technically it wasn't a part of BlogHer, but it was hosted to line up with the conference. I am so excited that Crissy from IndieBizChicks.com invited me to participate. I immensely enjoyed meeting her and the other speakers (Tonya Staab, Amy Schroeder – creator of Venus Zine, and the Handmade Detroit girls, Lish Dorset and Bethany Nixon). We had great questions from the audience and I think/hope we all gave some good suggestions and tips. Danielle and all of Etsy were such great hosts. They provided awesome snacks and drinks, and there was even a DJ! I had so much fun with the other panelists that I basically forced myself upon them and hung out with them throughout the conference. Above is a photo of me and Lish late last night… Thanks for adopting me, Michigan girls!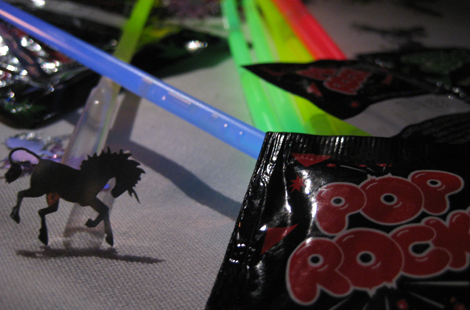 To end out the conference last night, I attended the Sparklecorn party hosted by MamaPop. I had no idea what to expect from an "official" BlogHer party, but I was blown away by the craziness that was Sparklecorn! My original twitter description: "So great. It's like a mom rave with a unicorn cake and poprocks." Exactly. There were glow sticks and lollipops and giant pretzels and Chex Mix and random movie posters from the 80s and the amazing unicorn cake. It was all extremely silly, but totally cool. I only stayed for a short time and did NOT hit the dance floor, but if I ever host a massive party, I hope that it is exactly like Sparklecorn.
So… overall, BlogHer was a pretty awesome experience. …and I haven't even given you any of the good blogging info I picked up or talked about the MOUNDS of swag that I took home. I'll have to get to that tomorrow. Two days of lady blogging hoopla wiped me out! Gotta go watch some tv and veg out…