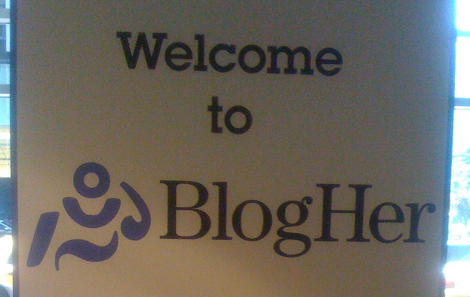 Even after 48 hours, my brain is still filled with BlogHer thoughts. Here are my notes from the sessions I attended…
Gen Y Passionistas: Making Your Passion Work for You – Jenn and Jill from Pursuing Our Passion spoke about about having the courage to do what you love. Some of their ideas:
Figure out what type of work brings you energy instead of leaving you feeling drained.
Do what you love, but make sure you are solving a problem that people need solved.
Show the readers of your blog that you are "listening" to them.
Keep doing what you love and the opportunities will come, but also know that pursuing your passion does not necessarily mean quitting your day job.
TGIMonday – enjoy seven days of your week, not just two.
Check out the book, "Making a Living without a Job" by Barbara Winter
Own your full name as a domain!
Mastering Intellectual Property Law – this sessions was hosted by two lawyers. It felt a bit dry and studious, but it included information that every small business owner needs to know to protect their work. A few tips from the session:
Learn about your online rights on ChillingEffects.org.
Register your logo, business name, and slogan as trademarks. Now.
Protect your brand and act quickly on any trademark infringement you find.
Make sure you have clear privacy policies and disclosures on your site.
Basically, having a lawyer is a VERY good idea!
Good Blog Design: The Role of Layout in an Online Medium – this is the session I discussed yesterday that included Grace from Design*Sponge. They discussed general design principles and best practices when working with a designer. They did not delve into talking about code. Their design tips:
Originality is very important because it translates into instant brand recognition.
Never let design trump site function.
Carry your design style across all of your online presences, like Twitter, Facebook, etc.
Don't go overboard with texture – one or two 3D-style items are enough.
Map out your past, present, and future content ideas before starting a re-design so that you will have room to grow within the new design.
Use CSS Type Set to create CSS code for your site.
The Bold Italic is an awesome website.
Creating (or Massively Altering) a WordPress Theme – This session had a few technical problems at the beginning, but it managed to delve deeply into the code-side of working with WordPress. I self-selected and placed myself in the more advanced group and the presentation was just slightly above my head, but it set me on the path to trying out some of the newer themes and options for WordPress 3.0. The main general tip that I picked up was that if you are comfortable working in the code, use a framework theme like Thematic that you can fully customize.
Closing Keynote: How to Use Your Voice, Your Platform, Your Power – I already talked a little bit about this inspirational keynote yesterday, but I wanted to share some of my more specific notes…
We all need to use our blogging voices to have important conversations.
Nobody has to do everything. All of us just have to do something. That is how we make progress.
More women in politics will make better policy and diversity of opinion = better decisions. Ask your blog readers to talk about one woman that they would like to see run for public office.
The more "deep" writing we all put out there, the more legitimacy blogging will have.
——————–
For more perspectives on the conference, here are some links to other descriptive blog posts about BlogHer: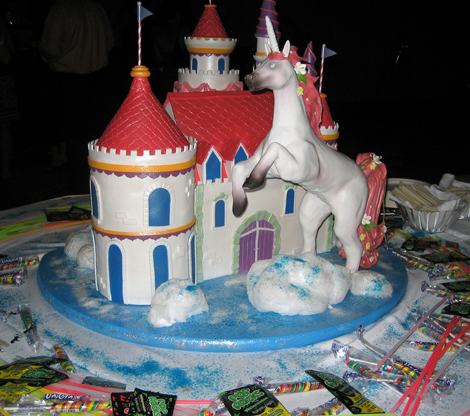 I am still digesting my experience. For me, the conference was a very positive two days, but I probably will not make the investment in traveling to next year's BlogHer conference in San Diego. I had a lot of fun (I mean, where else do you get to eat a unicorn cake?!) and took home some good info, but I think the sessions were mostly geared toward beginning bloggers. I certainly know that we can all learn from each other no matter what, but as someone who has been blogging for nearly seven years and running my own small business for five, I may not have been the target attendee. I also got a little bummed out when I learned a bit about how much the corporate sponsors paid to be there (think hundreds of thousands of dollars) and how much profit the BlogHer organization took home. I definitely think the conference should be profitable, but I felt a bit naive when I truly realized that the conference was mainly a money-making venture and not necessarily only about empowering women… hmmmm… we DO all need to make money, though.
Were you at BlogHer? Have you attended in the past? What are your thoughts?