This is my last BlogHer-related post, I promise!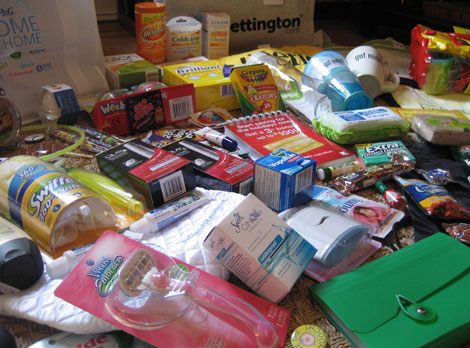 The BlogHer conference last weekend included two large expo halls where companies had booths to promote their brands and new products – very common for large conferences. The companies in the expo halls were giving out lots of free samples and swag. And by lots, I mean more than you could carry home!
I toured the expo halls twice. I met some really nice people, got my photo taken with the Jimmy Dean Sun, and tried my best not to pick up too much free stuff. Despite my best intentions (I try hard not to be a greedy swag grabber), I came home with two large bags of product! I managed to collect everything from NyQuil to tuna fish – a very random assortment!
The company reps were all extremely sweet and informative (that's their job, right?) and none of them required any of the conference attendees to commit to blogging about their product. The free stuff really was "no strings attached," so why am I having an ethical dilemma? I probably shouldn't be, but I feel guilty for taking the free swag! I tried to only accept things that I truly thought I could use, but I still feel guilty. Should I be feeling this way? Do the big companies know that we will feel guilty about the free product and feel compelled to reciprocate in some way? Am I a sucker?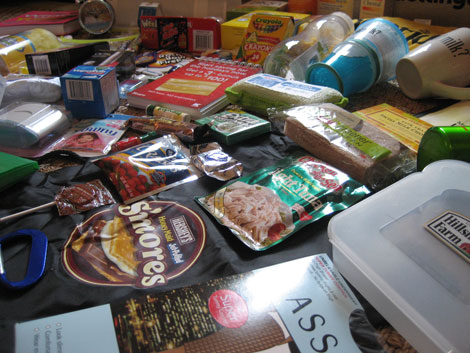 There is no way I can blog about all of the companies I met, plus, I don't want to. I have never done paid or otherwise compensated product reviews on this blog (although, I have received some free product that I have reviewed for Craft Critique) and I only write about brands that I really, truly like.
I do not plan to change my style just because I received some free product, but I do feel some pressure to acknowledge my gratitude for the companies' generosity in some way… So, I would like to highlight some of my favorite things that I received at the BlogHer Expo. Is that an acceptable combination of integrity and reciprocation? I hope so!
My favorites of the BlogHer swag:
For those who went to BlogHer, what were your favorite swag items?