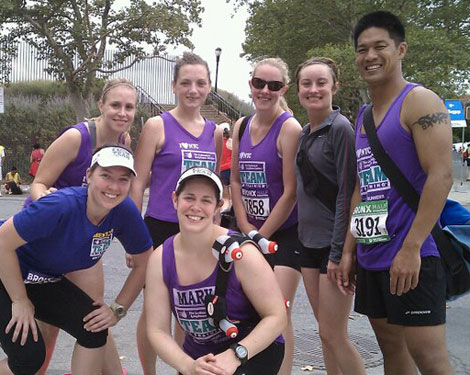 I must admit, I am proud of myself today. I completed the Bronx Half Marathon, and it wasn't even that bad!
I have run the 13.1 mile distance in the (long ago) past — you can see my results from the 2000 Drake Relays Half here under Rachel Lamble — but today's race was my longest run this season. My recent, week-long trip to Disney World set me back just a bit in my training, which meant that 10 miles was my previous long distance max. I was worried that I may not be totally prepared to tackle a half-marathon race at this point in my training.
Races are a little bit different than regular long run practices because there is more adrenaline in the air and runners are much more likely to push themselves to go faster, even if that isn't the best idea. I had already decided not to try for any specific time, but it was hard not to get caught up in all the discussion of paces and time. Luckily, the weather was cool this morning and I ran with two fabulous friends, Lauren and Jessica, who kept me going at a consistent speed. I felt fine for nearly the entire race, with just some stiffness and soreness during the last three miles. Lauren and I crossed the finish line together with a time of 2:30. We sprinted the last mile, or so, which was difficult, but I am glad that I gave my best effort.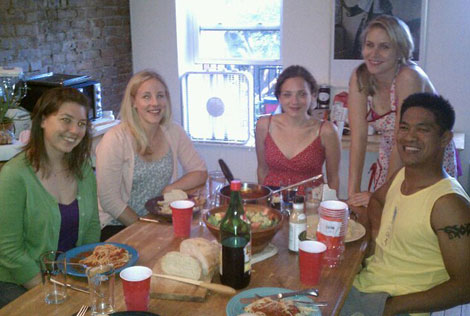 I could not have done the Bronx Half Marathon without my Team in Training. It may sound cheesy, but they are the ones who convinced me to sign up and convinced me that I wouldn't come in last. Lauren's dad and Brian provided us with transportation all the way to and from the Bronx. Lauren even hosted a Saturday night pre-race dinner at her house and everyone brought carbolicious foods. (The photo above is from dinner, from left to right are Hannah, me!, Jessica, Lauren, Brian, and Travis snapped the pic.) I truly cannot motivate myself to train for long distances on my own, but with my team it all seems doable. Amazing.
After the race today I felt quite stiff. I tried to stretch, but I think I am going to be sore for a few days… I actually think that is a semi-good thing. It means that I pushed myself past my comfort zone a bit. I want to improve my pace time slightly before the marathon (my goal is to run it in under 5 hours), but I think I am on the right track!
p.s. If you want to read more about our Team in Training adventures, read Jessica's excellent blog: Jessica Runs Like a Girl. She has a masters in creative writing and her descriptions are much superior to mine.