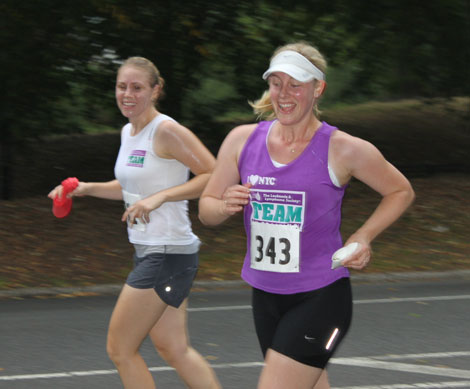 Despite my crazy-person smile seen in the photo above, today's "Battle of Brooklyn" 10 mile race in Prospect Park was killer. I think it may have been my worst long run of the season, and I have only myself to blame. Travis and I took a lovely trip to Rhinebeck yesterday for our friend, Sarah's, birthday party. (Happy birthday, Sarah!) We had a great time, but I definitely did not eat the correct pre-race foods (instead I had a lot of delicious food, like ribs and cake) and we stayed out very late – getting home well after midnight.
The trip was totally worth it, but I woke up groggy and sore this morning. To make the run even less appealing, it was overcast and rainy out. I am trooper and I made it out to the park anyway. As usual, my teammates were a great source of encouragement. I ran with my friend and running doppelganger, Lauren, and I managed to make it around the park for the full three loops. It rained on us, I was stiff and sore, my previously most trusty pair of shorts caused chaffing issues, and my pace time was the slowest of any of my races so far… ugh. But thanks to my husband and dog cheering section and the encouragement of my coach for the last half mile and my team at the finish line, I completed the run. Thank goodness.
The icky-ness of today's race really reinforces the importance of race preparation in the days leading up to a big run. Nutrition, hydration, and sleep definitely make a difference. I have recommitted to staying vigilant about those things in the future — especially for the marathon!!
Look at this awesome team: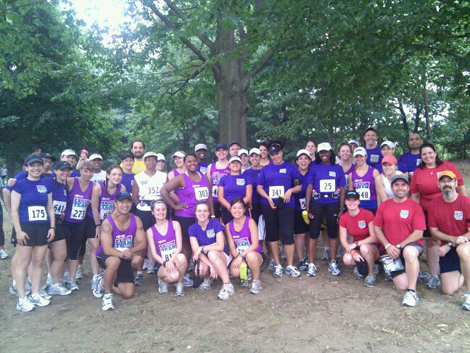 I have received so many generous donations from friends and family for the Leukemia & Lymphoma Society through my TNT fundraising page, but there is still time to help me reach my $5,000 goal! Help us find a cure for blood cancers and support families struggling with the diseases.