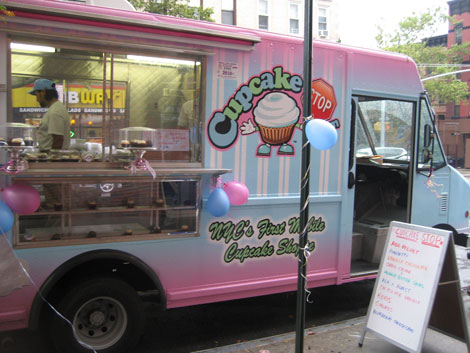 I have an impromptu cupcake review for you today! On our walk home from my road race yesterday, Travis and I came across this CupcakeStop.com truck in Park Slope. The truck was so cute with its pink and blue paint, like it was painted just for me!
I actually wasn't feeling so great after the run and did not have an immediate desire to eat cupcakes – astonishing, I know – but I couldn't let a surprise encounter with a cupcake truck pass me by!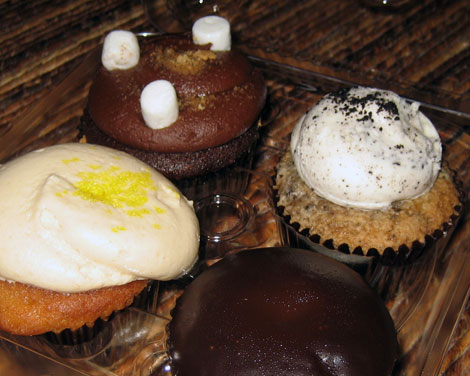 We ordered four cupcakes to take home: S'more, Oreo Cookies and Cream, Boston Cream, and the Elvis – a peanut butter banana flavor. The flavor selection was actually quite impressive for a food truck, with about a dozen choices, but not quite as good as what a brick and mortar cupcake shop can offer. The presentation of the cupcakes was reasonably nice as well, with piped icing and some decorative toppings, like sprinkles and marshmallows. And since we were carrying them home, I was especially pleased that they offered cupcake travel boxes!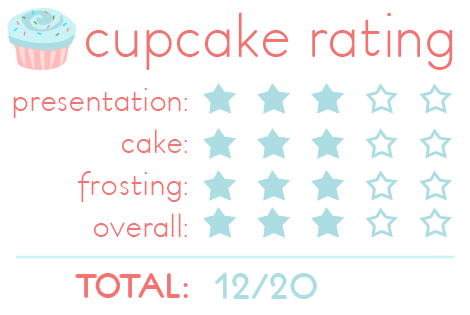 We waited until evening to dig in and taste test the Cupcake Stop cakes. I tried the S'more flavor first (of course!) and immediately loved the chocolate frosting. It was quite sweet, but very smooth. I also really enjoyed the marshmallow filling inside the cake, but I wished there had been more of it. I continued on and tasted all four flavors, but the S'more cupcake remained my favorite. The cake part of all of the cupcakes was a bit dry – especially in the Elvis – and they were all somewhat small and flat. The Cookies and Cream cupcake had real cookie pieces throughout the tasty icing and the cake, but other than that it was fairly boring. The Boston Cream cake had filling inside, but just barely – probably less than a teaspoon – disappointing.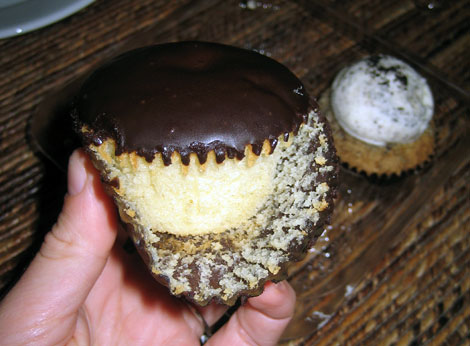 Overall, the cupcakes were fine. All of the flavors were good – not bad at all – but they just didn't wow me and they weren't as "special" as cupcakes from other bakeries, like Robicelli's. I would visit the truck again if I had a super cupcake craving and it was nearby, but I wouldn't search it out or make a special trip to the CupcakeStop.com truck.
One of my other (small) complaints is that the CupcakeStop.com company seems a little overly commercial – like it only exists to capitalize on the cupcake trend. But hey, I am writing a cupcake review on my blog, so I don't have much room to criticize!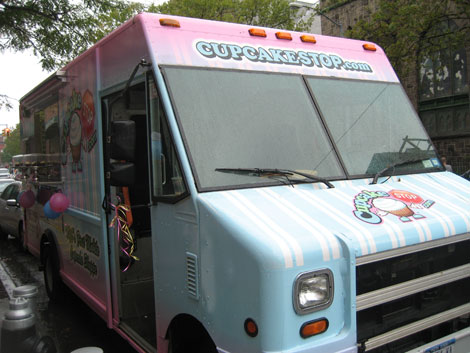 CupcakeStop.com was created by Lev Ekster, a recent law school grad, and the company has two store locations and multiple trucks in the NYC area. You can also order their cakes online and have them shipped anywhere in the US for free. They have a Twitter account that announces their truck locations, plus a Facebook page. One last cool fact about CupcakeStop: they donate any leftover cupcakes to City Harvest.
I enjoyed the entire CupcakeStop.com truck experience and am glad I stumbled upon the truck. Have you found one of the trucks in the city and tried their cupcakes?