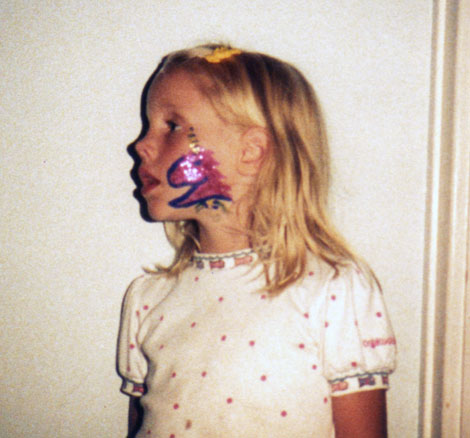 I am getting old. I can't remember when this photo was taken. I must have been three or four, still living in Saint Louis, and totally rocking a sparkly unicorn face painting. Where did I get it? Did I request to have this photo taken? Why is my shirt so dirty? It is so funny to think that I lived inside that little girl for years and can't quite even remember what it was like… Someday will I forget what it was like to be me, now, at 29?
I got this idea of a "30 before 30" list from one of my favorite blogs, Making It Lovely, and thought it would be fun to do since I am turning 30 in February…
Here are 30 things I would like to do before my 30th birthday:
♥ Redesign the Swap-bot homepage.
♥ Go to dinner at Al Di La.
♥ Get super-comfortable using our DSLR camera.
♥ Run the NYC marathon!
♥ Be noticeably sweeter to my husband.
♥ Take my donation pile to the thrift store.
♥ Visit The Cloisters.
♥ Lose 15 pounds. (Isn't this on everyone's list?)
♥ Buy a really beautiful and practical dress.
♥ Make marinara sauce from scratch.
♥ Take an overnight trip with my husband that is not at a relative's house.
♥ Visit the Bronx Zoo.
♥ Watch every episode of Tosh.0.
♥ Get the Florence + The Machine album on vinyl.
♥ Make Crusher a super-cute Halloween costume.
♥ Try to live in the moment.
♥ Make blueberry pancakes.
♥ Start taking a weekly yoga class.
♥ Figure out how to style my hair in loose waves/curls.
♥ Watch Meet Me in St. Louis again.
♥ Do all of my mending!
♥ Drive upstate to see the autumn foliage.
♥ Make cupcakes with some sort of filling.
♥ Reduce my internal negativity.
♥ Call my brothers and sister-in-law every week (or at least more frequently).
♥ Visit all five boroughs in NYC (should happen during the marathon).
♥ Get a new laptop.
♥ Read a novel. (Maybe this one?)
♥ Reduce the amount of time I spend on Facebook.
♥ Vote!
♥ Promote peace.
♥ Get a unicorn face painting!
What else should I add to the list?