This post is based on the blogging prompt "Do you have any pets? Put a blog post up about them – and don't forget to include some pics!" from IndieBizChicks' September Blogging Special.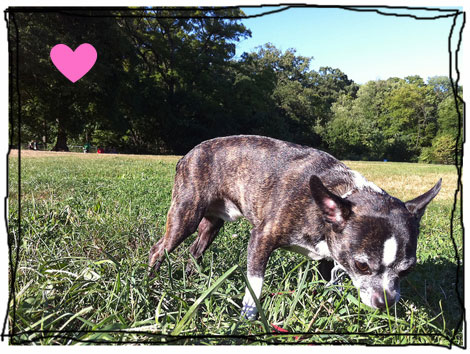 This is my sweet little pup, Crusher, enjoying some late summer sun at Prospect Park. (I think everyone who reads my blog already knows about Crusher… I am a little bit crazy about him! He is a two-year-old Boston Terrier & Chihuahua mix.) He had to go to the vet today because he has an ear infection. He got some medicine and also some good news: he has lost 8 ounces! yay! He still needs to lose about 8 more, but at least we are on the right track. What a good dog!
FYI: If you are a Brooklynite looking for a vet, I highly recommend 6th Ave Animal Clinic. The staff and doctors are all awesome. Dr. Perry is our main veterinarian and she is extremely nice and down to earth. Plus, I can always get an appointment quickly.