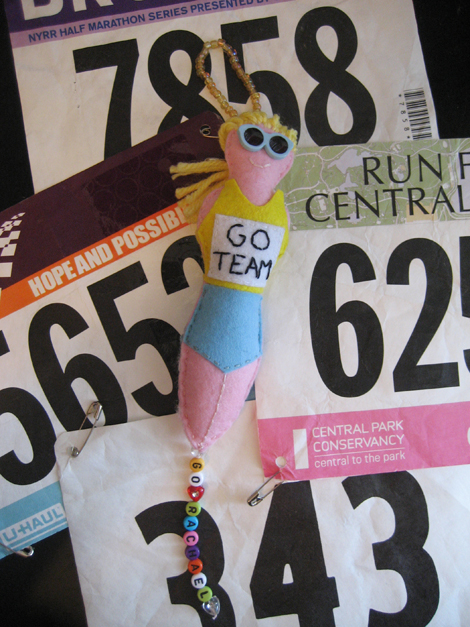 Sometimes I can't even explain how wonderful the community on Swap-bot.com can be! This little doll was sent to me as a surprise gift from Swap-bot user, Jazza. It is a dotee doll – a popular craft item that is swapped on the 'bot. It looks like me in my running gear and I posed it on top of my race bibs for the portrait. I love it! It was sent as a thank you for creating Swap-bot and also as a bit of encouragement and support for my marathon training. This wonderful handmade mail made my day and came at a the perfect time…
I have been feeling discouraged in my marathon training. My runs have not been going very well lately and I have been very sore for weeks. I feel down on myself because despite my commitment to the training schedule, I don't feel like I am getting faster, or stronger, or even skinnier!! ugh. But Jazza's gift reminded me to stay focused on my real motivation for doing the marathon – helping the Leukemia & Lymphoma Society find a cure for cancer. And even if I am not the best runner, I am healthy enough to do it and that is a blessing.
The Swap-bot community has been a major supporter of my Team In Training fundraising mission and I have not thanked them enough. I have sent out over seventy-five Swap-bot swag packs to Swap-bot members who have donated $5 or more to the cause. I have been blown away by their generous response!
Sometimes I get extremely discouraged by the difficult aspects of trying to run an online community… alone… from my home computer. Of course, there are difficult people and problems to deal with, just like in any other job or community, but the good, and wonderful, and creative, and generous FAR outweigh the bad. My marathon dotee doll is going to hang right beside my computer to remind me of that fact everyday. xoxo