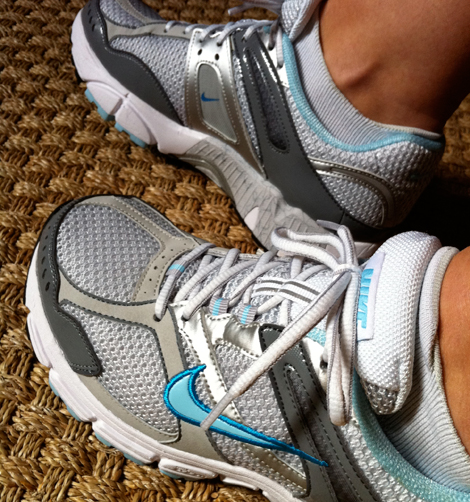 Running is a mystery. At times it is the worst punishment in the world, and then at other times it is a miraculous moment of peace and triumph. Triumph is probably too strong a word, especially if you could see me run. I am so slow and so non-athletic looking. The good news is that I actually think I may be getting better! (Have I said that before? Well, this time I really mean it!) I had a great time at our speed and hills practice on Tuesday (amazing because those practices usually fill me with dread) and yesterday I had the most awesome solo 6-mile run. It felt great. I had new shoes (see above), the weather was perfect, and I felt strong for the whole two loops around Prospect Park! I think this week has been a break through in my training…
I didn't want to write about my long run on Saturday because immediately following it I felt totally discouraged… again. We ran 16 miles and I was in pain for a good portion of it. (The video above was taken during the good, pre-pain time at about mile 6.) I was so mad at the end! I was thinking, why must this continue to be so hard?! I was also angry that the long runs wipe me out for the whole day afterward and take forever to recover from. I took an ice bath just to cover my bases, but was resigned to the fact that I was going to be sore for another week. BUT, then something pretty cool happened. I felt better on Sunday! Travis and I took our trip to Queens and I walked around a bunch without trouble. Nice. By Monday I was feeling totally fine! Miracle!
Training is truly getting hard at this point. We are tackling a lot of mileage and many of my Team In Training members have been nursing some injuries. At practice this week a friend asked how I have kept from getting injured. I think a lot of it is luck and my lack of ambition when it comes to my pace and time, but I joked that it was because of my thick and sturdy legs. I come from solid and hearty lineage… and man, have I fretted about that my whole life. Probably every day of my existence, I have wished for the long, lean limbs of a super-model (how pathetic is that?!), but maybe I should cut myself some slack. My "sturdy" body has taken me this far and I plan to use it to do a lot more cool stuff in the future!
This Saturday I am going to attempt to run 18-20 miles. I really hope for 20, but I want to be flexible in order to avoid injury. On October 10th, I'll be running the Staten Island Half Marathon. I have never been to SI, so I am looking forward to checking it out. I am also looking forward to the "short" 13.1 mile race! Then, I will attempt one more super-long run (20 miles, I hope), and then it's time to taper down my mileage… the marathon is just 40 days away! wow!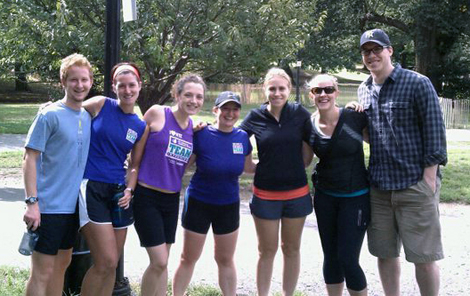 This photo is from two weeks ago after another tough 16 mile run. (I even had to walk a bit at the end of that run. ugh.) I was dead, but so happy to be hanging out with my team. It is so much more fun to share the suffering and successes with others.
(p.s. You can still help support my marathon adventure and help find a cure for Leukemia & Lymphoma at the same time! Donate to the cause via my Team In Training fundraising page. Your support truly means so much and I will be thinking about all of my generous donors as I pound out 26.2 miles on November 7th!)