I know this blog has been Running Central lately, and I apologize if I have gone overboard on the exercise-theme. I had wanted to scan the pages from this old scrapbook, but my scanner was sacrificed in the move to NY, so I took photos instead. They are a little wonky, but will have to do. I am running out of time before my current marathon adventure will be ending… so, without further ado, let's travel back in time to a marathon long, long ago…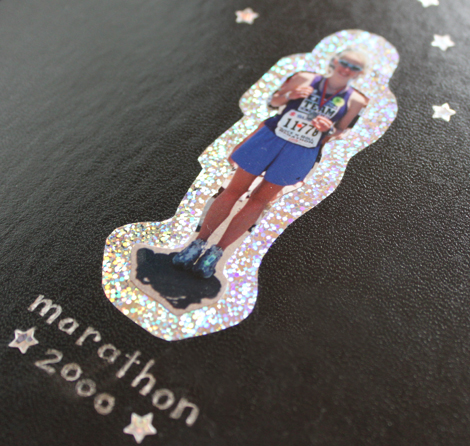 It was the year 2000. I was 19. I had just finished my first year of college and simultaneously trained for a marathon with the Leukemia & Lymphoma Society's Team In Training. My friend Jody joined the team with me. Well, I think I actually joined it with her…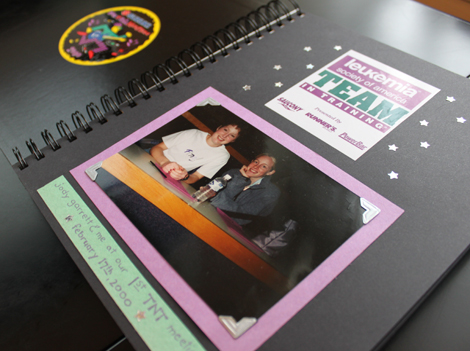 We went to college in Lamoni, Iowa, but the closest TNT team was in Des Moines, over an hour away. Jody was kind enough to drive us there for our meetings and Saturday practices. That is us above at the very first info meeting on February 17th, 2000. (Fun fact: There is a bag sitting next to me in that photo that I still take to practice today!)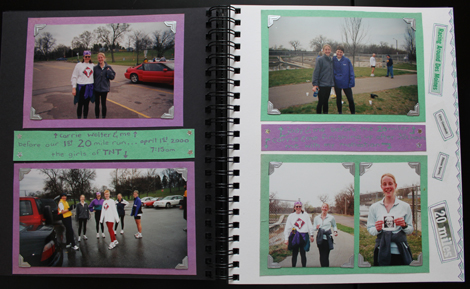 These are photos from our first 20 mile practice run on April Fools Day, 2000. I ran with a woman named Carrie at most of the practices. My 19-year-old self thought all of the women on the team were so old… ugh. They were probably all younger than I am now…. teenagers are so judgemental!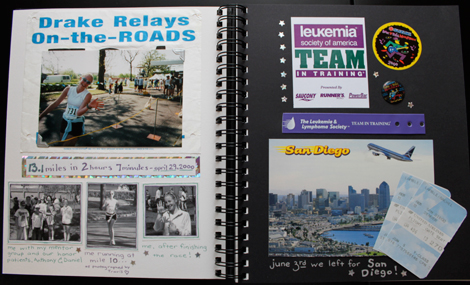 On April 29th, 2000, we ran the Drake Relays half marathon. I think that was the best race of my life. I finished in 2:07 (you can still find my results here under Rachel Lamble) and got 5th in my age group. Nice. Then, on June 3rd, we left for San Diego for the Rock N Roll Marathon!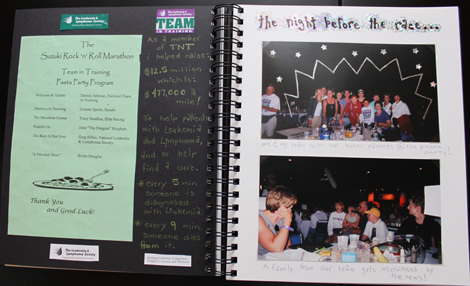 That year, Team In Training raised $12.5 million for the Leukemia & Lymphoma Society. (I just learned that the NYC marathon team alone has raised over $1 million in 2010.) The pasta party the night before the race was inspiring!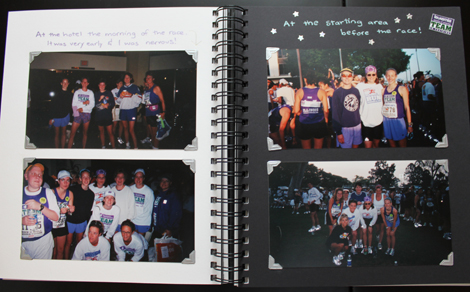 These are photos from the morning of the race. All I remember is being extremely nervous and not wanting to finish a full bagel because it had too many calories… but I did it anyway and ate a banana. I was so dumb when it came to food. I don't think I ate anything at all during the race…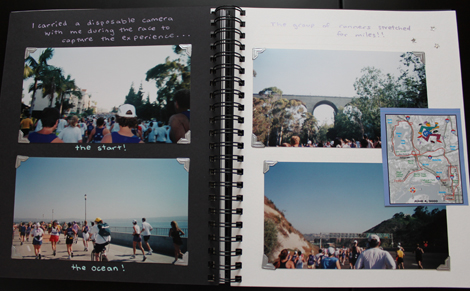 I carried a disposable camera with during the race – a disposable FILM camera. (These were the days before digital. I didn't even HAVE a cell phone.) I was so glad that I had the camera with me, though. I remember being blown away by the number of people in the race. The group of runners stretched for miles! (There were 21,000 runners in that race – there will be twice that number in the NYC marathon this year!) We ran along the ocean, on the highways, and through Balboa Park. It was beautiful.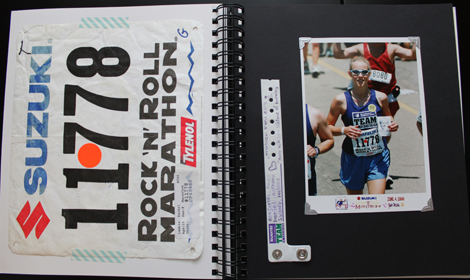 This is my bib and official portrait. I carried a photo of Travis with me while I ran (we were so in love!) and people thought he was my honor patient…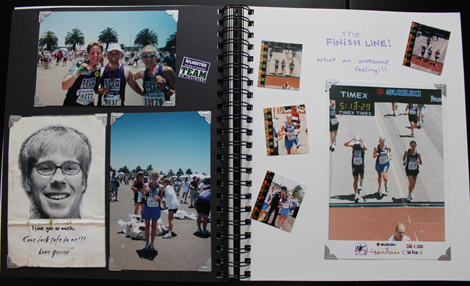 Finally the finish line. I had broken down at about mile 22. I stopped and cried and had to walk. It was disappointing. One of my teammates found me (I can't even remember his name now, isn't that awful?!) and we ran the rest of the race together. Having a team out there with you really makes it so much more fun. I don't know if I could do a marathon without Team in Training.
It was so awesome to cross the finish line! They give you medals and blankets and bags of loot. I remember I was most impressed by the giant size bottles of Fiji water that they were handing out. (Designer bottled water was new to me.)
I finished the marathon in 5:09:11. (You can search the official results here.) I was disappointed because I had wanted to get in under five hours, but finishing the race still felt like a huge accomplishment!
So… that is the story of my first marathon. In some ways it feels so long ago, and then in other ways the memories feel so vivid. It was definitely one of the most exciting experiences of my life. Just thinking about how much fun it was makes me feel even more excited about running the NYC marathon!