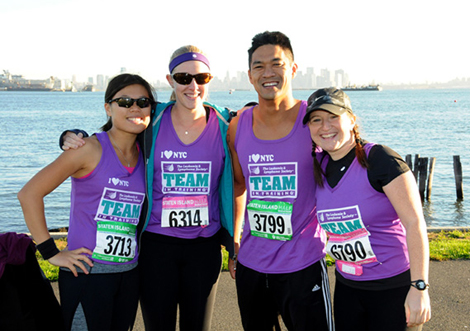 Yesterday was my marathon dress rehearsal. I ran a half marathon on Staten Island, which also happens to be where the full NYC marathon will be starting. I was up at 5 am, out the door on my way to the Staten Island Ferry by 5:40, and on the island by 7… which turned out to be a bit early since the race didn't start until 8:30. Oh well, the waiting was probably good practice. (On marathon day I will arrive earlier and start a lot later – not until 10:40!) Plus, we had time to flag down the official NYRR photographer and get the photo above taken – it made it to the event website! (From left to right: Sarah, me, Brian, Becca.)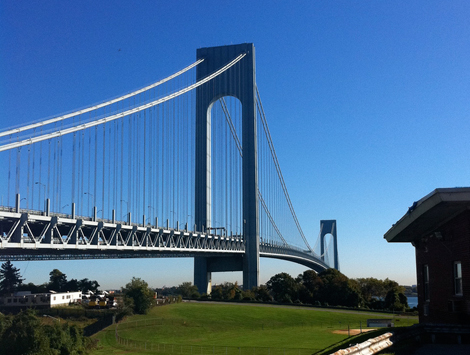 Even just a day later, it is hard to remember exactly how the race felt. If I wasn't so sore, I would probably have already forgotten how much I pushed myself. The race traveled along the water and under the Verrazano-Narrows Bridge, with Manhattan and the Statue of Liberty in the distance. I ran with my friend, Lauren, and we wanted to try to improve our time. Our last official Half was in August in the Bronx and we completed it in 2 hours 30 minutes (about an 11:30/mile pace). This time we started off trying to keep up with a couple of our faster friends. We didn't manage to stay with them, but we were pretty pumped at around mile four when we realized we'd been running 10:20 miles. We decided to try to stick with that pace… It got difficult for me at around mile 10. My hips were oddly sore. (I blame the high heels I wore on Saturday.) Lauren was a super motivator and stuck with me, even when I was dragging at the end. Check us out "sprinting" it in at the finish line…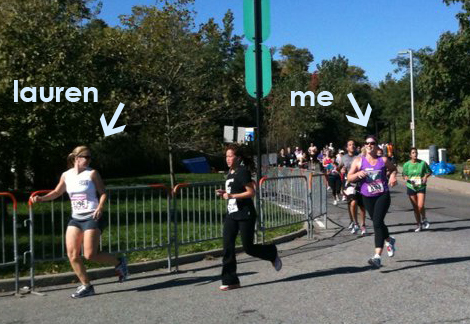 Lauren is urging me to go faster and I am grinning like a crazy person even though I was hurting. Our friend, Sarah, took the photo. She and Brian were cheering for us at the end (having finished about 30 minutes earlier, those speed demons). It is hard not to smile when you have friends cheering you on!
We ended up finishing in 2:16:23, a 10:24/mile pace. That is a really strong pace for me, especially for that distance. It felt like an accomplishment! It isn't a Personal Record, since my younger self already conquered all of these distances, but we could call it my old-lady PR. I don't think I can run quite as fast during the full marathon, but I am still aiming for under five hours – that truly would be a PR!!
Only 26 days until the main event!