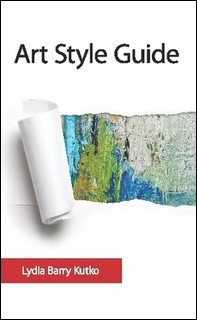 I was an art major in undergrad, studied art management in grad school, and I worked at an art magazine for many years. I interned at art organizations and an art museum, and was even offered a fancy gallery job… you would think I would be totally comfortable in the art buying world! Unfortunately, that is not the case. I am still completely intimidated by the gallery scene and the daunting task of figuring out how to start my own art collection. Which is why I needed the Art Style Guide, a helpful mini-book that helps the reader define their personal art style and start the collection process, all in six easy steps!
The author of Arts Style Guide, Lydia Barry Kutko, has a BA in Art History from the University of Wisconsin-Madison and an MA in art & business from the Fashion Institute of Technology. I met Lydia at an the Etsy Labs craft night I hosted last February. I helped her make a Valentine for her husband, which I think cemented our friendship, and she has since helped me explore some of the more sophisticated aspects of NYC culture. She is brilliant and charming, and pretty much the epitome of a cool New Yorker… but let's get to the Guide…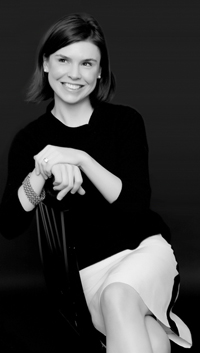 Art collecting is daunting. Galleries are often cold and unwelcoming. The Art Style Guide is a resource for people who love art but feel overwhelmed by the art buying process. It takes you through six accessible steps — Cut, Decode, Compile, Court, Corroborate, and Celebrate — that help you define your own personal style and interests, and then gives you the knowledge you need to dive into the art gallery scene. It is a pocket-sized book that you can easily carry with you on your art adventures and it includes multiple built-in note pages for jotting down your thoughts and responses to the book's prompts.
The Guide also includes a great list of helpful art resources. (I was tickled to discover one of them being the magazine I worked for, America Art Review – fabulous!) Lydia emphasizes the importance of research and exposure – the best way to start collecting art is to start looking at art — lots of it! And, it turns out, art is all around us and we make artistic decisions everyday!
From the book's intro:
"Art Style Guide resulted from an epiphany about collecting: that through mass media culture, we are all inextricably involved in the art world; and that daily, whether aware or not, we make savvy aesthetic decisions – from the clothes we wear to the products we purchase. Art Style is about using the aesthetics of the familiar to explore the exotic."
I had a lot of fun going through Art Style Guide's six steps and I think any beginning collector will enjoy it, as well.
To learn more about the Lydia and the Guide, check out her website and Facebook page. You can purchase the Guide here, and get lots more informative art tidbits and tips by following the Art_Style Twitter feed.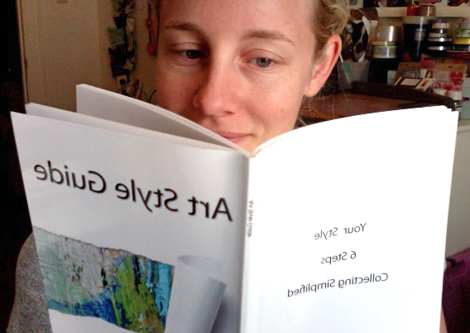 Sleepy-head me doing some early morning Art Style reading…