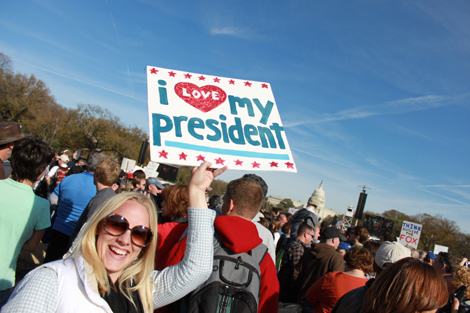 If you follow me on Facebook or Twitter you already know that Travis and I spent the weekend in DC. We traveled south to our nation's capitol for the Jon Stewart/Stephen Colbert Rally for Sanity and/or Fear. I wasn't sure what to expect… was it going to be worth it to travel all the way to DC for a three-hour event? Would anyone else show up? Would only college kids show up? Would the rally actually be entertaining? I didn't know the answers, but I am such a huge fan of Stewart and Colbert, that I felt compelled to attend.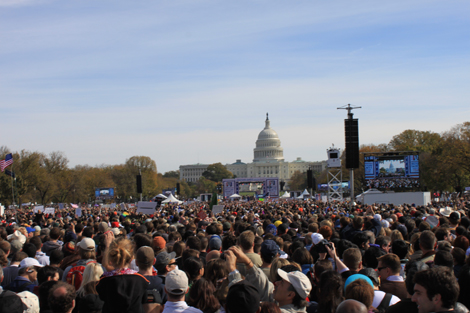 Travis and I decided to make the weekend into a little vacation and arrived in DC on Friday night. We tried our best to get up early on the morning of the rally in order to stake our claim on a prime audience spot, but we didn't leave the hotel until around 9am. The subway ride to the National Mall was the most crowded I have ever been on — we were squished in so tight that no one could move, plus, everyone was carrying signs. Luckily, we arrived to the Mall early enough to get a reasonably good spot (behind the third of four sets of jumbo screens that were spaced out a distance away from the actual stage) and we set up camp. Travis held down our little blanket and tote bag fort while I went and checked out the scene. People were pouring into the Mall by that point and it was almost too crowded to move. I picked up a few political stickers that were being handed out and then decided that it would probably be best to wait for the start of the rally at our spot.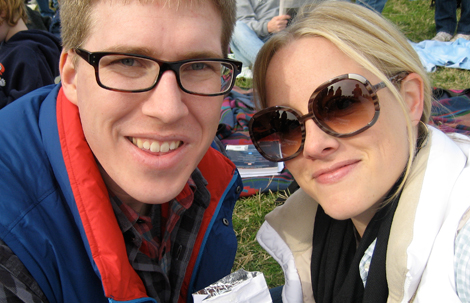 We had intended to meet up with friends at the rally, but the cell service was completely overwhelmed. I couldn't even get a tweet out, let alone contact our friends! I was disappointed because I had hoped (like probably every other attendee) to "live-tweet" the event, but I am actually glad that I was able to put the phone away and just enjoy the afternoon.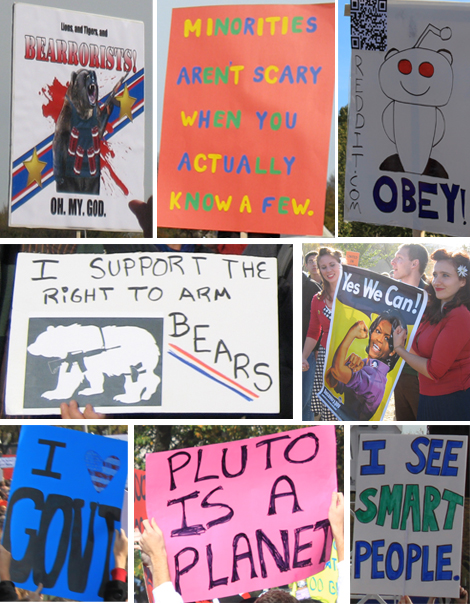 We saw so many awesome signs!! Some people are so clever. My sign was not funny, but instead sincere. It said "I love my president" in glitter letters. I thought it was cute, but it didn't get me on tv. darn. I was hoping President Obama would see me with it and invite me to the White House. ha! Ya, right.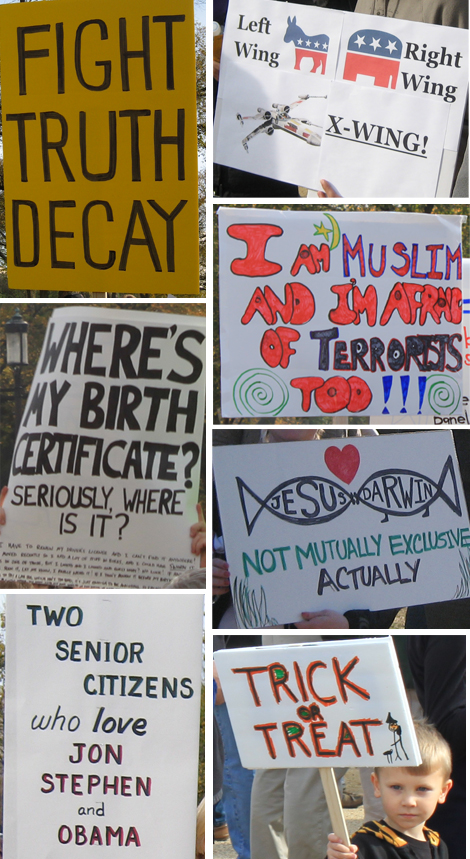 Other blogs are featuring a lot of the anti-tea party signs that were seen at the rally, but I was not a fan of those. I liked the signs that were positive and smart. I don't like anything that is hurtful or divisive, and for me, the rally was a way for those of us who aren't really into the drama and shouting of political television to express our love of America, and yes, our reasonableness. Of course, one might argue that anyone who puts the effort into making a sign to hold up at a rally has a flair for the dramatic… drama and extremism, or not, it was a just a really fun event!!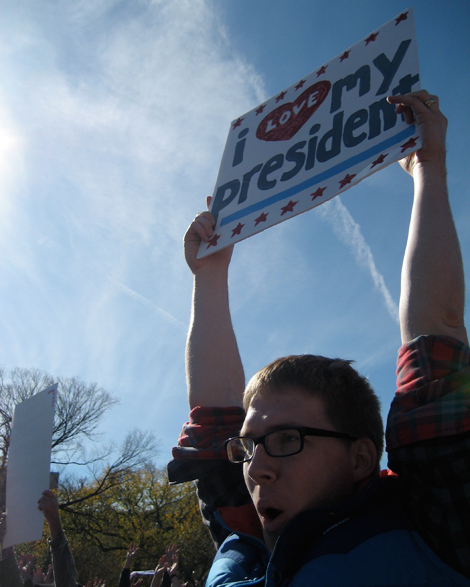 Jon and Stephen did an awesome job and they surprised us with so many cool guests! I am sure anyone who is interested has already watched the footage on Comedy Central, but my favorite parts of the rally were:
The Roots – What an amazing band!! I love that they are the house band on the Late Show with Jimmy Fallon (and I love Jimmy about a million times more for having them on his show), but as a tweet I saw said, "they should be the house band for everything!"
Mythbusters – So fun. They came out to warm up the crowd and they had us making noises and jumping around and doing the wave. I had thought that the crowd was going to be mostly college kids, but where we were standing it was all families and older couples, and the Mythbuster guys had us all participating!
Yusuf Islam (Cat Stevens) – What an amazing surprise. I started crying when Yusuf took the stage and started singing Peace Train. It was just so wonderful, and this may be cheesy, but the song just seemed to express my reasoning behind being at the rally … but then Colbert came onstage to stop the "hippy rainbow choo choo" and announced Ozzy Osborne who came on singing Crazy Train. Eventually all the performers came to a compromise and the O'Jays took the stage signing Love Train. It was an amazing mash-up of a performance!
Jon Stewart – It seems no one knew what to expect from the Rally for Sanity and no one knew how political it was going to get. Obviously, it was a liberal-leaning event, but jokes were made about extremists from both the right and the left, and no overtly political preaching was done. (I actually was hoping they would do more to urge people to vote on Tuesday, but they didn't even do that.) The only serious time came at the end when Jon reminded us that the media does not get to determine what American is or isn't, and that people of differing opinions and ideas work together every day to get things done — it doesn't have to be "us or them" and we shouldn't believe anyone who says otherwise. What a great message! It reminded me to keep a level head when it comes to politics, and to keep faith in the fact that our country continues to move forward thanks to our diversity, not in spite of it.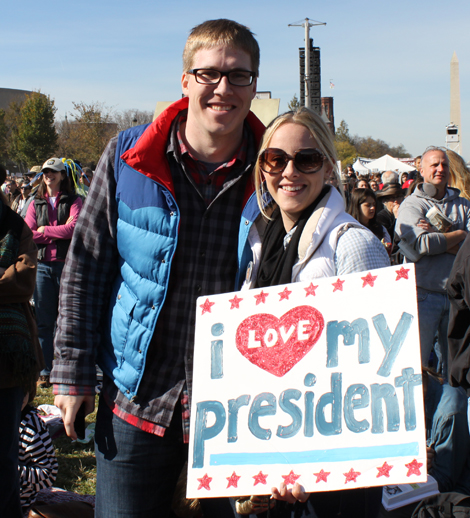 The entire event was incredibly fun — like a concert with a ton of comedy thrown in. I loved it and it was totally worth the trip to DC. I also loved being a part of the diverse crowd and interacting with people from all over the country. (I've heard that there were 200,000 people there and that a good portion of people were so far back that they couldn't even see or hear the rally at all, but they stuck around just to be a part of it all.) The only thing I would have done differently is pack more snacks!!