My 2010 NYC marathon play-by-play…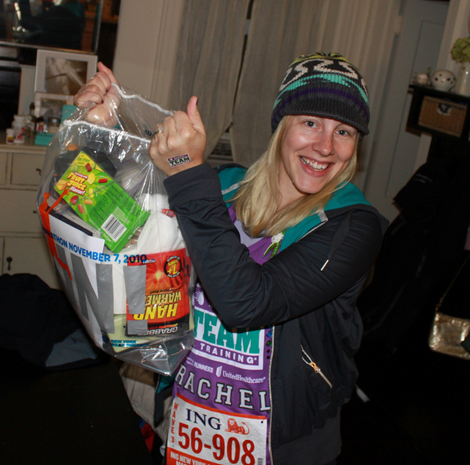 Much to my surprise, it was easy getting up at 4 am yesterday. I had even gotten some sleep! Incredible. I was so happy and excited in the morning. I ate 1/4 of a bagel with jam, drank a bit of coffee, and packed up my gear bag. I rode in a car with my friends, Becca and Amber, to the Team In Training bus and we were all in great moods. Go team!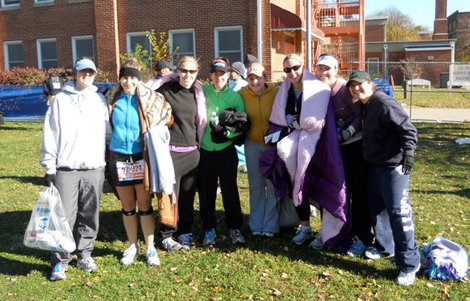 Those of us in the same wave set up camp together once we arrived at Staten Island. (Above is Monica, Ruthie, Lauren, Amber, Fitz, me, Hannah, and Becca.) It was chilly, but definitely not terrible. We all had on multiple layers of clothes and plenty of hand warmers and blankets.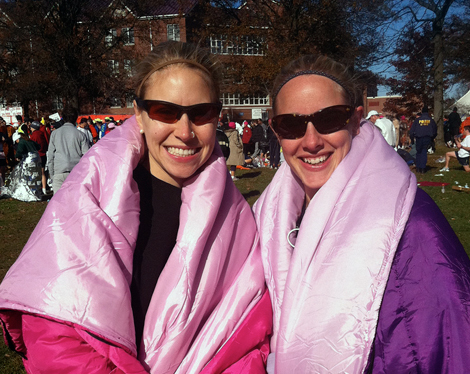 Lauren bought the two of us matching sleeping bags. (We had to carry out the twin theme to the finish line!) I am glad that I had it because it kept me cozy, but we had to toss them before the start of the race. (All of the clothing and blankets tossed on Staten Island by the runners will be donated to charity.) At the "athlete village" before the race, we all ate a bit, hydrated, went to the port-a-potties, nervously chatted, and basically waited for our turn to run.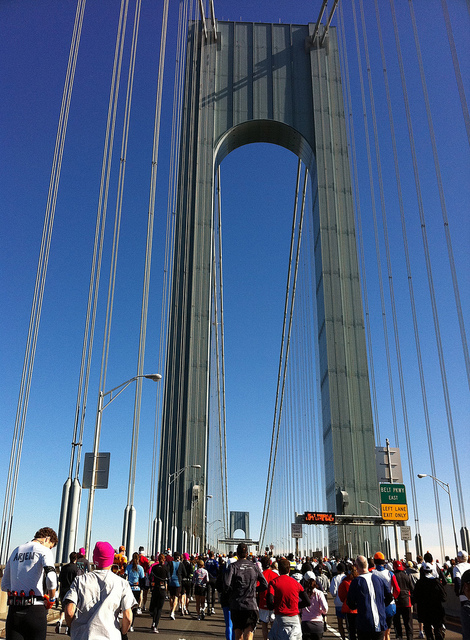 We waited through the elite start, wave 1 start, and wave 2 start before we could make our own way to the starting line on the Verrazano Bridge. It was craziness moving with all of the crowds of people to the start line, but the starting system was actually very well organized. Although, it took Lauren, Fitz, and I about five minutes to get to the start line after we had heard the gun. But once we got there, all there was to do was start running. It was exciting!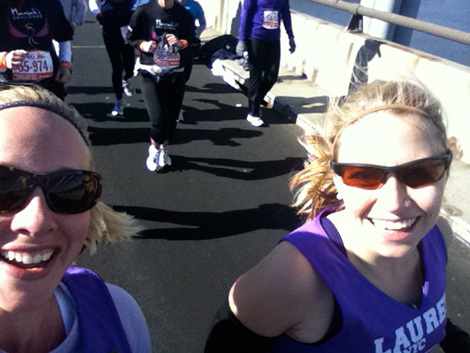 This is Lauren and I at about mile 1 on the bridge. Look how happy we are! It was incredible on the bridge. The bridge itself is huge, but in the distance, across the ocean (river, maybe) you could see Brooklyn and Manhattan — so magical. We planned to stay together and try to stick to an 11-minute/mile pace in order to finish in under five hours, and at mile 1 that seemed like an easy plan! We had heard that men liked to pee off the Verrazano Bridge — I have no idea why — and we did see one older guy pull off to the side to do just that… I guess I can confirm the rumors!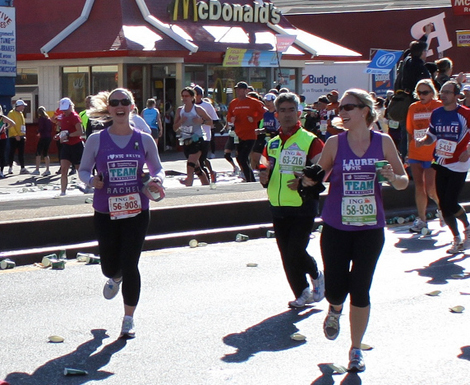 Coming into Brooklyn was awesome. The spectators were everywhere with signs and drums and high fives. We saw our coach, Alison, around mile 5-ish and we were having a ton of fun, meeting our time goals and talking about how great the crowds were. We had no problem running the 7 miles to my street in Park Slope. Travis was there and he snapped this silly photo of us near the McDonald's. I can't get over how happy we are!
Fort Greene was the best spectator neighborhood in Brooklyn. Tons of people were out and even full brownstones were decorated with balloons and signs. We saw some friends there and were still feeling good. I think I was feeling entirely optimistic until mile 10. My legs started hurting at that point and I remember thinking two things: "If it was easy, everyone would do it" and "gah – 16 more miles?" It was too early to be having those thoughts!!
Queens was ok. Lauren kept me going at a reasonable pace, but we were slowing. Subway Jared passed us, but we made it to the halfway point and then over the Queensboro bridge to Manhattan at around mile 16. The bridge was brutal — a long uphill — but Lauren kept me distracted by talking about cute boys. (btw: Neither of us liked Brad Pitt's scraggly goatee with the beads…)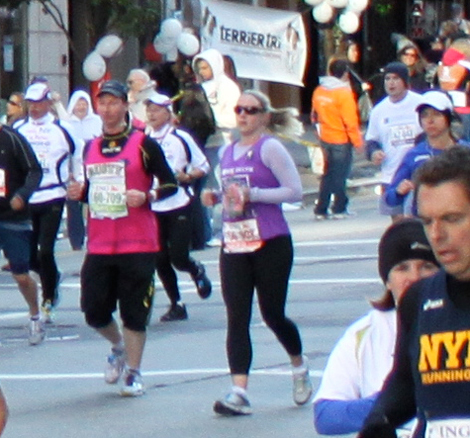 I was hurting bad by the time we were on First Avenue in Manhattan. I was still holding out hope that I would get a second wind and that my legs would just go numb, but I was struggling already. I had really, truly believed that the bad pain would not start until after mile 20. That is when it had started when I ran my previous marathon… you know, ten years ago. Lauren did her best to encourage me, but when I saw Travis at mile 18 I cried and cried. I was so glad to see him and so disappointed that I was already in so much pain.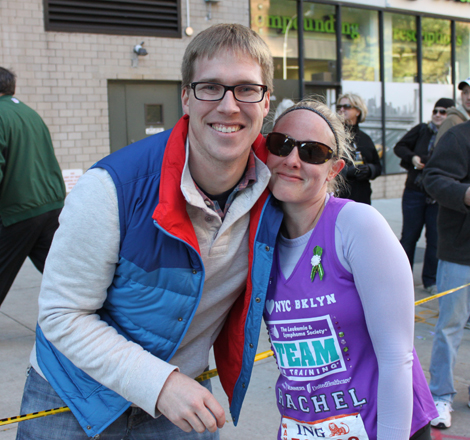 A police officer offered to take our photo and I am so thankful he did! Travis was so amazing out on the course and I was so happy to see him each time. He had a super-long day yesterday, too, but he never complained and he was so sweet to me throughout the whole race process. Anyhoo, I had to keep running, so Travis sent me on my way up to the Bronx. Lauren was still feeling good and obviously had more energy left than me. I kept telling her to keep going and run ahead, but she stuck with me. But once we got to mile 20 in the Bronx, I told her she had to go. She still had a chance of finishing in under five hours if she went for it, and I wanted her to run her best race. There was no way I was making it in under five hours at that point.
So, I was alone in the Bronx and hurting. Six more miles to go. I sent my last tweet on my quickly dying phone and set my mind to finish the race. This is my chant: "I am ok. I am ok. I am strong. I can do this." A Team in Training coach that I didn't know ran with me for a while and I gave him a hug. I was so thankful for any encouragement! My sweet parents had entered a digital message via the SupportYourMarathoner.com site and I saw it on the big screen!! It said, "Run, Rachel, Run!" and I cried. I think I was still in the Bronx… but I am not sure. The pain made it hard to appreciate all of the wonderful spectators, but I definitely knew when I hit Harlem! Harlem was wonderful. There were organized groups of spectators with mega horns and a gospel choir. I cried there, too. oof. My TNT coach, Kara, found me at some point when I got back into Manhattan, but I don't know what mile it was. She said that I still had color in my face, which was good… ha! My gait was definitely messed up and I probably looked awful!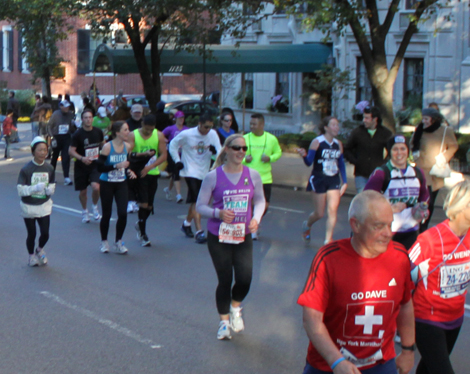 Travis took this photo as I was climbing the killer hill at around mile 23. I was dead, but Mary, one of the TNT mentors ran with me quite a ways up the hill and carried my water bottle for a while. That is something I did not expect: my arms got very tied of carrying my water bottle! I had never had trouble with it before, but by the end of the race I could barely lift my arms and my shoulders were very tight. Strange! We found Travis and he gave me a kiss. My breath was probably rank — all that stale Gatorade and Gu! Ick.
I don't remember much about the last three miles. We went in the park and there were a lot of spectators and lots of people cheered me on individually, shouting "go team" or "go Raquel" (lots of people read my name as Raquel…hmmm). All I remember thinking is "PAIN!" and "gosh, I can't believe all of these lovely New Yorkers are seeing me in this sorry state!" I am sure I looked like I was 90 years old, hobbling along. Plus, I was crying… and grimacing… and clenching my fists in weird ways. I tried to think of all the things that make me happy. Crusher, Christmas, Cupcakes… then I started naming my family and I started crying too hard and had to stop. I tried to think about Ellen Ripley and Sarah Connor and how I should be strong like them (they are my fave movie characters, btw), but I didn't feel strong. Thinking back, it seems so ridiculous that I was having so much trouble, but I was. It was incredibly difficult.
We had to leave the park at the south end. I saw a group of girls from my Team, which made me happy. My friend, Jessica, jumped out and ran with me almost into the finishing chute! As I inched closer to the finish, I remember thinking that I should sprint it in and hold my arms up for a good finisher photo… but I couldn't quite manage it. I "ran" across the finish, but I am not exactly looking forward to the photos… ugh.
It was getting dark by the time I finished. My official time was 5:29:19. Much slower than I had wanted, but I guess it is acceptable. Everything from the weather, to my outfit, to my food prep had been perfect and I definitely gave it all I had. Maybe my pain threshold is too low. Maybe my legs just aren't built for running. Maybe I should have done more strength training. Who knows. I finished and I was very happy to stop running. Sadly, the pain didn't really stop.
After we crossed the finish line, we got medals, and then foil blankets. Then, we had to keep walking. It felt like we walked for miles. We had to walk by all of the trucks with the checked gear bags. I picked up my bag and continued to hobble toward the exit. When I got the chance, I lay down on the ground and put on my sweats and jacket, then continued on. I had to walk all the way to Amsterdam Avenue and 80th Street to check in with my Team. I had no choice. My phone was dead and my emergency plan was to meet Travis there, too. So, I kept hobbling.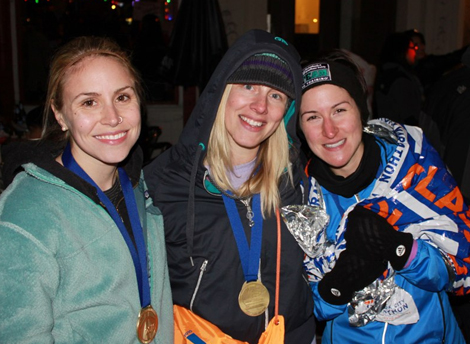 When I made it to Amsterdam Avenue I saw a Crumbs cupcake shop. You won't believe this, but I just felt pulled into the shop. I bought two big assorted boxes of cupcakes. I think I was delirious! I didn't eat them, I just clutched the bag as I made it down the street. I finally made it to the Team meet-up spot and Travis was there waiting for me. Lauren and Amber were there, too. Seeing everyone really perked me up. Travis and I ended up having dinner with his cousin, Aaron, who was in town and came to meet us. It was fun, but I was exhausted. We tried to get a taxi home, but there were none, so we ended up riding the trusty R train back to Brooklyn.
I had been sure that I would attend the after-party Sunday night. I was so optimistic before the race! I think I was remembering how I had felt when I ran the San Diego marathon when I was 19. It was also tough, but I recovered quickly then. I was able to go to that after-party. I didn't go to it this time. I was too dead and it was getting too late. I hate, hate, hate to admit it, because I wanted to be stronger now than ever, but I guess my 19-year-old self was more capable. That makes me feel sad. I really tried hard to commit to my training 100% this season and had hoped I would gain just a small amount of speed this time around. Oh, well. I finished.
I want to feel proud and happy. And I do. The marathon is an incredible personal journey and challenge. It sounds strange, but you have to get to know yourself really well when the going gets tough. I am proud that I kept running (and I think I can say I "ran" the whole thing, even when walking may have been faster) and that I faced the pain. It is also incredibly heart-warming to see the spectators out cheering everyone on — they cheer for the elites and the back of the pack alike. I don't really know why any of us (other than the elites) choose to take on the marathon, but it is amazing to have so much support and to see the whole city come out for the event. It was an incredible, life-affirming experience.
Thank you so much to everyone who sent encouragement and to everyone who was out on the course keeping me going! xoxo
Ooo! Also, this event made me love Team In Training even more! If you are thinking about training for an endurance event, I can't recommend this organization enough.
—-
More photos are in my NYC Marathon Flickr set. And, you can see 20 funny marathoner costumes here – people are so funny! You can search for other runners' results here.