I went to a friend's house last night to watch the Golden Globe Awards with a group of fun ladies. We had a good time discussing the movies (almost all of which I have NOT seen) and the fashion. Since I already put in the hard work of watching the ceremony and doing the critique, I thought I'd share some of my favorite gowns…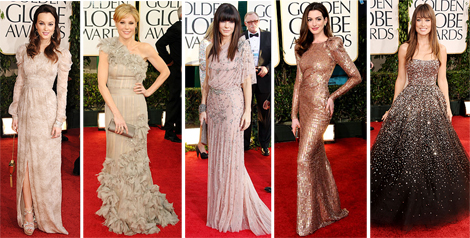 I obviously really liked the neutral color trend. I also didn't mind the prevalence of long sleeves and the emphasis on shoulders. From left to right: Leighton Meester in Burberry, Julie Bowen in Tadashi Shoji, Sandra Bullock in Jenny Packham (but I'm not a huge fan of her bangs), Anne Hathaway in Giorgio Armani Prive, and my very favorite: Olivia Wilde in Marchesa.
I don't like the "worst dressed" lists — they are so mean — but here i go anyway…. my least favorite were Jennifer Lopez and Halle Berry. I like creativity, but Lopez's cape wasn't really doing it for me. And I know that Halle Berry is super-sexy, but it just seemed like she was trying way too hard to look hot in her corset gown. Not my favorite.
Anyway, please add to this very important conversation by adding your favorite Golden Globe fashions in the comments…