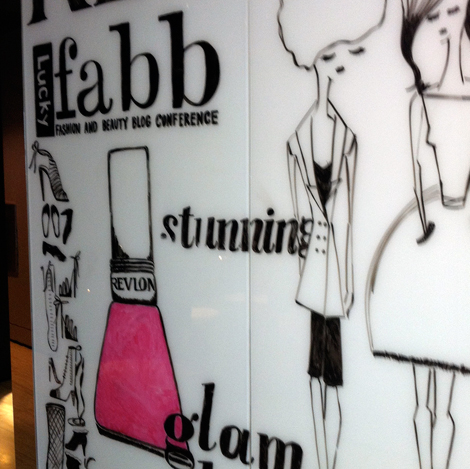 A long time ago (in a galaxy far, far away) when I first started this blog, I had wanted it to focus loosely on fashion. I wasn't very successful at staying focused and this site has pretty much morphed into covering my wide range of interests and my daily personal life. I don't think I'll ever be able to be 100% focused on a single topic, but I do still enjoy fashion… which is why I was really excited to attend Lucky Magazine's Fashion and Beauty Blogging Conference yesterday.
I was nervous that I wouldn't fit in with the super-stylish crowd and that the info at the conference might not help with my more general online endeavors, but the event was actually a lot of fun and very interesting.
Brandon Holley, the new editor in chief of Lucky, did an exceptional job hosting. She was funny and relaxed and even came up and chatted with me during breakfast. (wow!) The panels were each interesting (I liked hearing from Tory Burch and Joan Rivers the best. Sadly, I had to leave before Jenna Lyons, J.Crew's Creative Director, spoke.) and they even served delicious 'wichcraft for lunch! To top it off, we got to take home a generous gift bag! I will definitely be keeping my eye out for their next conference, which is supposed to happen in September.
Here is a list of some of the new sites and people I discovered at the conference:
I am sure that I am missing some good links… but that is a start. What are some of your favorite fashion blogs and sites?
I didn't take the best photos, but you can find them all in my Flickr set.