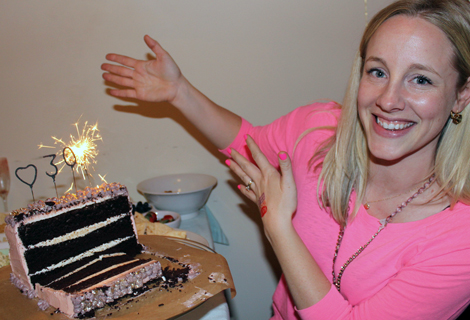 You may remember that about six months ago I wrote down a list of 30 things I wanted to do before I turned 30. Well, I didn't do so great completing the list… but I'm not beating myself up over it. I am flexible. I am revising the list to be a "30 while 30" list. I have crossed out the items that have been completed and added more items to replace them, creating a new list of thirty things that I would like to do before I'm 31. … Or, at least before I'm 40!
My 30 while 30:
♥ Redesign the Swap-bot homepage.
♥ Go to dinner at Al Di La.
♥ Get super-comfortable using our DSLR camera.
♥ Run the NYC marathon!
♥ Be noticeably sweeter to my husband.
♥ Take my donation pile to the thrift store.
♥ Visit The Cloisters.
♥ Lose 15 pounds. (Isn't this on everyone's list?)
♥ Buy a really beautiful and practical dress.
♥ Make marinara sauce from scratch.
♥ Take an overnight trip with my husband that is not at a relative's house.
♥ Visit the Bronx Zoo.
♥ Watch every episode of Tosh.0.
♥ Get the Florence + The Machine album on vinyl.
♥ Make Crusher a super-cute Halloween costume.
♥ Try to live in the moment.
♥ Make blueberry pancakes.
♥ Start taking a weekly yoga class.
♥ Figure out how to style my hair in loose waves/curls.
♥ Watch Meet Me in St. Louis again.
♥ Do all of my mending!
♥ Drive upstate to see the autumn foliage.
♥ Make cupcakes with some sort of filling.
♥ Reduce my internal negativity.
♥ Call my brothers and sister-in-law every week (or at least more frequently).
♥ Visit all five boroughs in NYC (should happen during the marathon).
♥ Get a new laptop.
♥ Read a novel. (Maybe this one?)
♥ Reduce the amount of time I spend on Facebook.
♥ Vote!
♥ Promote peace.
♥ Get a unicorn face painting!
New items:
♥ Run a sub-2-hour half marathon. (This may be impossible.)
♥ Set up an online Swap-bot merch store.
♥ Force Travis to watch Star Trek: Generations with me.
♥ Eat less candy.
♥ Attend a taping of the Wendy WIlliams Show.
♥ Buy awesome, new, flattering jeans.
♥ Visit the New York Transit Museum.
♥ Bake a loaf of bread from scratch.
♥ Become an adult.
What do you think? What else should I add to my list?