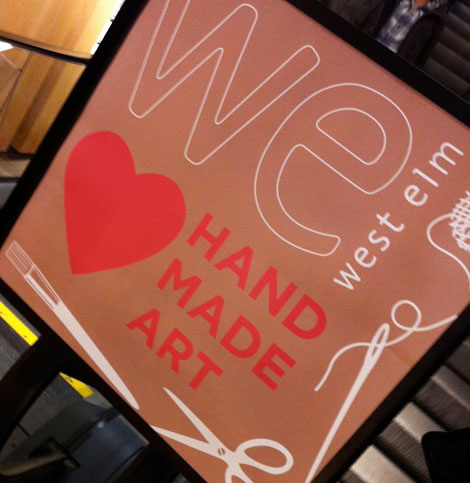 I went with my friend, Jess, to a We Heart Handmade Art event last night . The event was hosted by Etsy and Remodelista, and was held at the West Elm store near Columbus Circle.
I had been reluctant about making the long trip uptown for the event, especially since the weather was rainy and bleak yesterday, but it paid off! I had a surprisingly excellent time. It was a party atmosphere with free drinks and really amazing sweet treats (like these adorable mini cones filled with mocha mousse!) from FIKA espresso bar. I had quite a few…
The event was packed, but the West Elm store was very large. The handmade vendors were dispersed and integrated throughout the store. It was sometimes hard to tell if you were looking at a West Elm product or one of the handmade art displays. There were jewelers, printers, illustrators, food vendors, and more. We met some talented artists.
My favorite handmade goodies: candy from Kettle Cronfections (I bought some!), Deep End Mugs from Clam Lab, thank you cards from Pawling Print Studio, and the "Everything's Alright Forever" print from Enormous Champion.
Jess and I went to do some shopping — I'm always up for checking out handmade wares, plus I am in the market for a new rug — but also to do some networking. We are working on a super-secret (i.e. still in beta) project together called Ace Department. Check it out if you are a female entrepreneur looking for a supportive online community. We think it's going to be grand.
I forced Jess to do the Smilebooth with me: