So….the sad news is that the cupcake trend seems to be losing steam… for a while I thought macarons might rise to fill the void, but they haven't quite made the leap to main stream popularity. Recently, I wrote on AceDept.com about another dessert trend contender: Pie!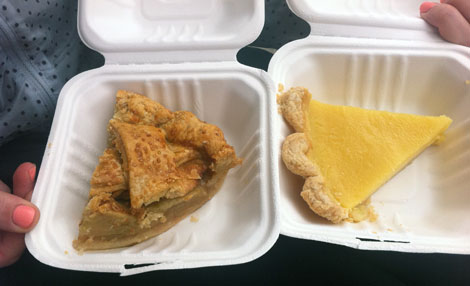 There is a "micro-neighborhood" near us in Brooklyn called Gowanus (because it is located along the Gowanus canal) and NY Magazine has named it as one of the next up and coming neighborhoods. I believe them mostly because of Four & Twenty Blackbirds, a new, adorably named, totally hip pie shop on the border between Park Slope and Gowanus. The shop was opened by two sisters from South Dakota late last year and their pie has received excellent reviews.
Travis and I walked over to Four & Twenty Blackbirds Saturday morning. It is not the greatest walk for us, along busy, industrial roads, but it was worth it. The shop was about half-full of customers sitting at tables and the girl behind the counter was patient with me as I tried to decide which pies to try. After much deliberation, I ordered the salted caramel apple pie and the lemon chess pie, plus an "egg in a nest" that you see Crusher begging for below.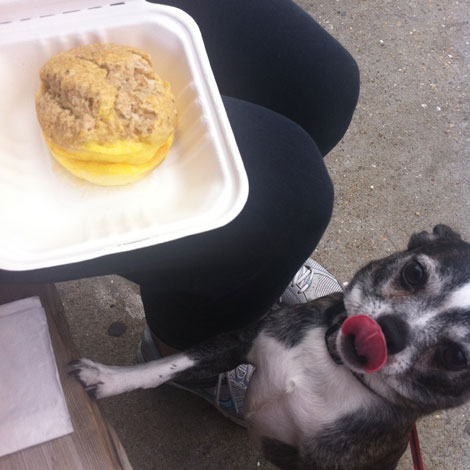 I didn't want overly high expectations to ruin my pie experience, but I had heard a lot of hype about Four & Twenty Blackbirds, so it was hard to go into the tasting in a neutral mind set. The good news? The pie did not disappoint! Travis and I loved both pies.
I love pie, but I often don't want to eat the crust — it seems like a waste of calories. Not so for this pie crust! It was buttery and chewy and delicious. For me, a crust that I WANT to eat is the ultimate test, but the fillings were certainly good as well. Neither pie was too sweet, but still full of flavor. The salted caramel apple is supposedly a customer favorite. The apples were thinly cut and tender and I loved the addition of the salted crust. However, I was surprised that Travis liked the lemon chess pie the best. Usually lemon is not his thing, but we fought over each bite of the delicious lemon custard. Yum!
Gowanus is a bit out of the way for most New Yorkers, but if you find yourself in the neighborhood, I definitely recommend stopping by Four & Twenty Blackbirds for pie.