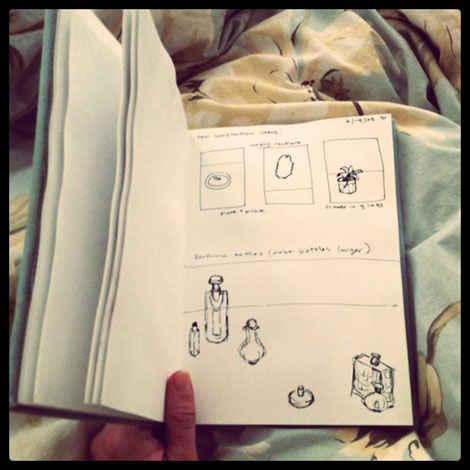 My friend, Jessica, is brilliant. She won't like me saying this, but she is a much better writer and big-picture thinker than I am. We are working on a new community site together called Ace Department. It is still in its beginning stages, but I really like where it is headed. We hope that it will grow to be a large, helpful, supportive, fun community for female entrepreneurs.
Anyway, today Jessica wrote a piece for our Ace Gazette blog (cute name, right?) about journal writing:
"The oldest productivity gurus in the book had it right: they kept diaries of their daily work and rest to provide context, satisfaction, and a sense of purpose for their next days. Recording their lives in writing gave them patience, helped them learn, and gave them the distance we often need from ourselves to grow. Whether you do it in notes to yourself or letters to someone else (like John Adams to Thomas Jefferson), getting your thoughts down on paper is eerily correlated with not only high intelligence but high achievement."
The post got me thinking about this little personal blog of mine and the reasons why I keep it going. What are my goals for it? Why do I do it? What do I want to say?
This blog has always been my own personal space. I guess I've used it for record keeping and scrapbooking — It is a great resource when I am trying to figure out when we took certain trips or bought big items — but I would like it to be more. I would like it to be more helpful for me in both a personal and professional sense. And I want to be more honest. Not that I am dishonest, but I always try to keep this space positive and non-offensive… and I am no longer sure that is the best course of action.
So…
In response to Jessica's Work Diary Challenge, I am challenging myself to write here on "r.l.j. art"/"rachel & the city" everyday until the end of June.
I will write about personal, scrapbook-style stuff as usual, but I also plan to include more of my daily thoughts about my business life. I will write about my experiences working on Swap-bot.com and AceDepartment.com, and maybe even talk about some of my design projects. I will be honest and not always entirely positive. I will post something every day, no matter what!
Want to join me?
Post a link to your blog or website in the comments here, or over on the Work Diary post on Ace, so that I can follow along with your daily jottings. And invite your friends! Who couldn't use a little more personal insight?
———
p.s. The diary you see above is one that I kept during my senior year of college. (Yep, about eight years ago. That entry is dated Valentine's Day 2003.) It was more of a visual diary since I was working through my senior painting show. Like all diaries seem to, it now reads as immature and naive, but I love the record of my previous life!