I went and saw the documentary film, !Women Art Revolution, today with my friends, Jessica and Lydia. Lydia is an art advisor and suggested the outing to the IFC theater. I am glad she did.
The film by Lynn Hershman Leeson was a great refresher on the feminist art movement of the 60s, 70s, and 80s. It re-introduced me to artists like Judy Chicago (whose Dinner Party is seen above), Carolee Scheemann, and Ana Mendieta. It also reminded me of the Guerrilla Girls, an anonymous art activist group that played a considerable part in my undergrad education thanks to my awesome professer, Julia Franklin. (Below is one of the Guerrilla Girls posters that they created to bring awareness to the lack of female artists in major institutions.)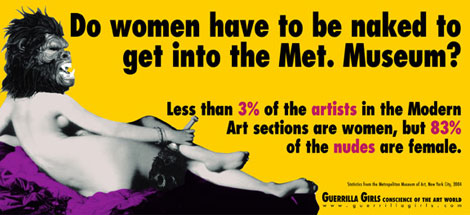 I enjoyed the movie. It refreshed my thinking in regard to recent art history and feminism. It showed how systematically the contribution of female artists has been excluded from art history and how much work women have done in an attempt to reduce sexism and discrimination in the art world. It was a good reminder of the importance of supporting female and minority artists, but it also reminded me why "feminism" seems to be a bad word for some women in my generation.
I consider myself a feminist. (I believe women — and all people — should have equal rights and opportunities and be able to choose their own paths and fulfill their potential in any way they choose. I also believe that women should have equal representation in our government.) But I can also see why others may not. Sometimes the feminist movement can come across as militant and hateful toward men. And even if that is absolutely NOT the central focus of feminism, I can see how women who love and admire the men in their lives (like I do) and who do not have the desire to be confrontational may have a hard time identifying with the movement.
!Women Art Revolution addresses this conflict and the problem of the less-than-positive view of the feminist art movement by younger generations. Contemporary artist, Alexandra Chowaniec, is quoted explaining that "there's a fear within my generation that identifying with feminism is a limitation and not a foundation." A hope expressed in the film (and which I share) is that we can work to re-define "feminism" so that it can be a more uniting and inclusive term.
The film is not perfect, nor is it an exhaustive history of women in art, but it expresses a very important point of view that is still very relevant today. All people are of value and everyone has the right to fight to have their voices heard – that is the message I take from the film. I hope !Women Art Revolution will be shown in all art history classes alongside all of those male-dominated text books.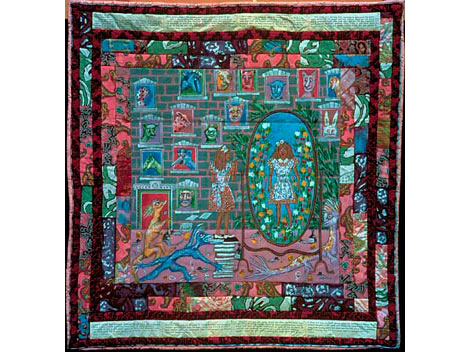 Shades of Alice, a piece in the collection of the American Craft Museum, New York, by Faith Ringgold, one of the artists interviewed in the film.
———-
Read more about !Women Art Revolution at ArtInfo and the NY Times. All of the footage shot for the film, including the hundreds of hours that weren't included in the final cut, can be viewed here. And, definitely check out the new RAW WAR online archive of art by women. There is still work to be done.