I wish I could say I took my Diary Challenge daily writing offline over the weekend, but the truth is that I missed two days. bummer. But you gotta fall off the horse in order to get back on!
Friday: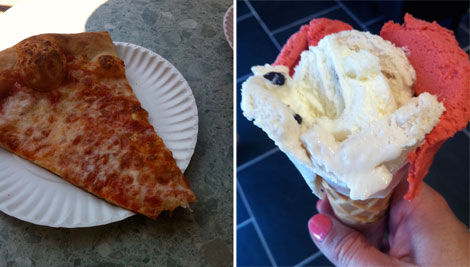 In addition to the film viewing, I got to do some NYC taste-testing. First, Jessica and I stopped at one of her favorite pizza places, Joe's Pizza, in the Village. It is one of the top pizza places in the city (recently mentioned by Jon Stewart) and it was indeed delish, with a perfect crispy crust.
After the movie, we headed to a new, European gelato place called Amorino. They serve the gelato in these amazing flower shapes. The gelato was excellent — with that thick, almost pudding-like texture — but we all agreed that the decor of the shop was a bit cheesy. (There were faux marble statues of cherubs.)
Saturday:
Sad day. I was still trying to rid my body of illness this weekend. The excitement of Friday seemed to cause me to regress and I spent half the day sleeping. Not good.
Sunday: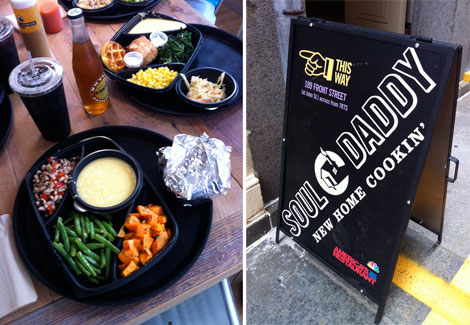 Thanks to the insistence of our friend, Brian, Travis and I got ourselves out of the house and on the Ikea ferry to lower Manhattan to try out Soul Daddy. The restaurant was the winner of the tv show, America's Next Great Restaurant. It is a casual, but quality, fast food restaurant similar to Chipotle. Between the four of us, we ordered just about everything on the menu: PULLED PORK SANDWICH, BLACK-EYED PEA SALAD, SWEET POTATO SALAD, GREEN BEAN SALAD, CABBAGE SLAW, BRAISED KALE, CHEESE GRITS, WHOLE WHEAT BISCUITS, and a CORN BREAD WAFFLE. It was all very fresh and healthy and tasty… but I don't know if it was anything special. Even though I really appreciate the healthy menu items, I was disappointed that they didn't serve fried chicken at a soul food place. Hmmm.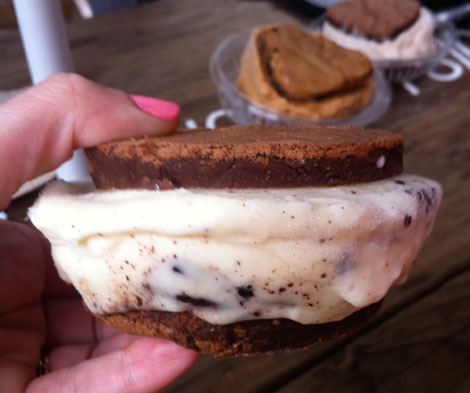 Next we headed back across the East River to hit up Bierkraft for some of their famous ice cream sandwiches. It is odd to go to a beer store for dessert, but their gelato and brownie sandwiches are noted as some of the best in the city! Bierkraft is so near to our house that I'm afraid I am going to go back for one every day!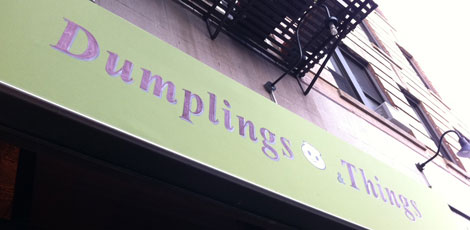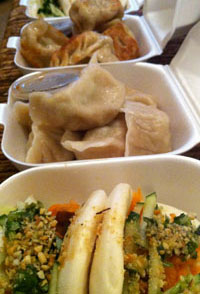 Unbelievably, Travis and I got hungry again in the evening and decided to try the new Dumplings & Things that opened in Park Slope. I love noodles, and pork buns, and dumplings, so I was excited about this place. Unfortunately, I was extremely disappointed. Their meat is really low quality. That wouldn't be a huge problem because Travis and I order mostly vegetarian items anyway, but I was also disappointed by the veggie dumplings. They have a really dense, thick wrapping. I felt like I was eating mostly dough. Ick. The noodle soup was also disappointing – just inedible beef, broth, and slimy, doughy noodles. I tried to save the soup for leftover lunch today, but I just couldn't finish it. I hate to be so harsh on a new place, but I don't think I will go back. I gotta be honest…
———-
What did you eat this weekend?